Optmyzr Review and Pricing
If you are into online marketing, you would be looking for the best solutions that would offer you a high degree of optimisation of your ad accounts. Managing the AdWords and Bing Ads requires a greater deal of efficiency and reporting. One such excellent optimisation tool you can opt for is Optmyzr. What is this tool capable of? We will check it out in the following paragraphs.

Optmyzr – A Capable Tool
Optmyzr , as the name itself should be indicative of, is one of the best optimisation tools for analysis and reporting of AdWords and Bing Ads. In fact, it offers you a one click optimisation for improving your PPC accounts.
You can get automated reports and solutions for all your issues in Ad Words, Bing Ads, Facebook, Google Analytics and other essential reports. It is an excellent account management option and offers you an evolutionary track record.
What Makes it an Excellent Option?
Optmyzr offers you a high degree of functionality that also comes with a time saving option. While it is best suited for the smaller clients, it offers you high range of ad groups if you are one of the large clients.
The tool can keep an eye on a host of aspects that can ruin your ad benefits. Some of the aspects that Optmyzr can control include negative keywords, non-converting keywords, and bids. It also helps you manage your AdWords campaigns as well.
It essentially offers you timesaving tools for the PPC management, if you are involved in Google AdWords and Bing Ads. It offers you four major areas to handle the tasks efficiently.
The proprietary One Click Optimization technique helps you improve your accounts by means of addition and removal of keywords, changing bids, update of ad text and aiding you in the placement of display networks. In essence, this will help you make your Google Shopping campaigns more profitable.
It comes with a Report Builder that helps you create beautiful PDF reports. You can also create web based reports and dashboards. You can share these reports with your clients and stakeholders. That way, you will be able to showcase the value of your PPC ads that their companies are going to gain.
It comes with the trademark Enhanced Scripts designed specifically for AdWords. You will be able to make the powerful automations made available for the for the non-programmers. The graphical user interface makes it quite simple and easy to opt for.
Optmyzr is a tool specifically made for simplifying the lives of the professionals involved in the management of PPC accounts. It simply automates the difficult tasks by automating the repetitive tasks so that the tedious tasks will be simplified. The fact that the company was created by the ex Googlers in itself should be quite evident that you would find the service really capable.
optmyzr pricing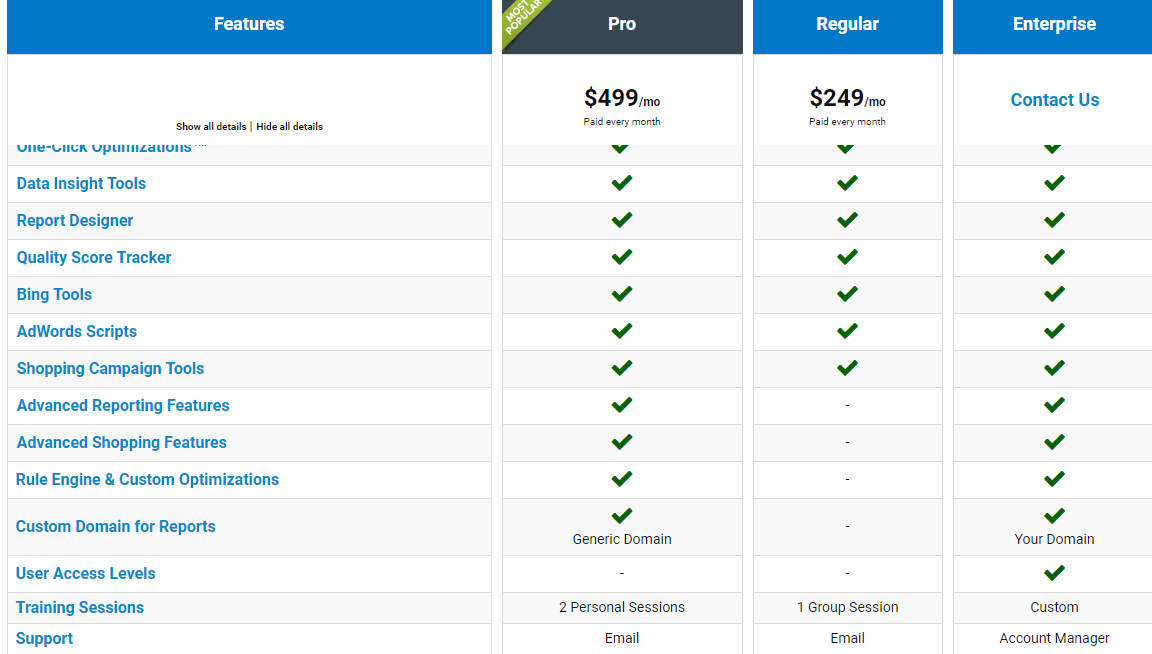 The Pros and Cons that The Service Offers You
Well, as with any other tool worth its salt, Optmyzr too offers its own set of positives and negatives. Let us compare the positive and negative aspects of the service in a finer detail here –
The Pros
Optmyzr is your best option for all your needs in managing paid search clients. It offers you a host of time saving options.
With its increased accuracy, Optmyzr can be your best bet for client retention.
A professional dashboard should offer you an easier system to work with.
It comes with a host of new age technologies like budget scripts, check destination scripts, check sitelink scripts, account alerts, and account workouts.
It provides you an optimised client campaigns.
The Cons
The software loads every tool without giving you an option to make a choice for the best option you are looking for.
The interface is easy to use, but can get a little clumsy at times. The performance may not be consistent sometimes.
The level of performance with respect to Bing accounts may not be as efficient as that for AdWords.
The service may not be efficient if you have very small accounts.
The Salient Features
Here are the best features that the tool offers you –
One Click Optimisation – Control a host of events and factors with the help of the One Click Optimisation technique. You can control a host of aspects like keywords, bids, budgets, ads and display to name just a few.
Enhanced Scripts – The scripts help you automate the tasks with ease. You do not need to develop any code, the software does everything on its own.
PPC Reporting – Optmyzr monitors your accounts and offers you instant notifications for a streamlined reporting.
Apart from these, you also have access to Data Insights, Shopping Ads Tools, and an efficient bid management.
The Concluding Thoughts
In case you are looking for an enterprise grade search marketing tool, nothing can beat Optmyzr. The industry's leading software has been done by the ex Google experts and thus has been the recipient of several awards in its genre. It has been considered to be capable of providing you over 50 tactics for the improvement of your PPC performance.
More Such Article you may like as –
What is Amazon underground App apk Download
Difference between pram and stroller
How to get Blue Tick on Instagram in a simple and easy Trick