Android 7.1.1 Update for Nexus Smartphones
Latest Android OS Nougat is going to enter its second iteration dubbed Android 7.1.1 officially very soon. As always Nexus users will be the first to taste all new features of Android Nougat latest iteration. As you might know already, Google had officially released Android 7.1.1 Developer Preview 2 for Nexus smartphones this week. After the testing phase is complete we have some hints about when it can be rolled out officially for various Android devices. Here in this article, we will be looking at possible dates when Google Nexus devices can receive latest Android 7.1.1 update and what all features will it consume under the hood.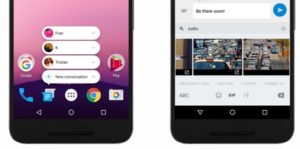 As per reports from Vodafone Australia, Google is going to come up with official Android Nougat update on 6th December 2016. This update will be rolled out for most of the Nexus devices including Nexus 6P, Nexus 5Z, Nexus 9, Nexus Player and Pixel C. Update for all these Nexus devices will be released at same time and will be fully fledged in terms of versions (no additional patches should be required for next few weeks, if everything works as planned).
It is interesting to note that this update time is going to clash with the awaited security patch for Nexus smartphones that users are waiting since a quite long now. As nothing is confirmed from Google officially so we can't be fully sure whether Android 7.1.1 Nougat Update for Nexus will be rolled on 6th December or not but in case it is being rolled out at presumed date then Nexus users are going to be busy with installing both the updates/patches. There are very rare chances of any sort of damage happening to Android 7.1.1 with security patch but please be careful while trying both of them (ideally nothing will happen but please be safe from your end).
HOW TO INSTALL ANDROID 7.1.1 UPDATE ON VARIOUS NEXUS SMARTPHONES
Like all other updates, it is also going to be rolled out through OTA. Eligible users will get direct notifications to their smartphone informing about latest features and improvements as part of 7.1.1 update. You can download the update through high-speed internet or Wi-Fi even. No manual steps are required, you only need to follow step by step onscreen instructions.
You make also like–
ANDROID 7.1.1 UPDATE : MAIN FEATURES
This update is going to be bliss for all Google Assistant lovers out there. It will bring lot more accuracy to Assistant's performance and will also have some performance tweaks to existing camera and fingerprint sensors. Besides this, many performance tweaks will be there to make entire processing unit more efficient and powerful.
Google Pixel's Camera App may come in Handy if you are a pixel fan!
ANDROID NOUGAT UPDATE FOR NEXUS SMARTPHONES IN INDIA
We will soon update you with the dates when this update can be downloaded in India. Indian users are seeing many transformations when it comes to smartphone market here. Cheap or better to say free smartphones through political schemes like Samajwadi Smartphone Yojna and Captain Smart Connect Scheme Smartphone are latest trends in India. Please stay tuned, we will update you as soon Google has something to say about the latest update.