The Much awaited Windows 10 has arrived, this version is Much anticipated one as it given Update to all Systems which are running on Windows 7 and 8. The enthusiastic, Elegant Windows 10 has it pro's and cons and also after working on it for more than 4 days this is my review on this New Version ( Windows 10 ).Microsoft is clean in its View as it has developed by taking feedback for its previous version from users and responded accordingly.
5 IMPORTANT ASPECTS OF WINDOWS 10:
DOWNLOADING AND INSTALLATION:
This part is more important, as it literally tested my patience and also many of them reporting as there Downloading of that 2.7 GB data is Bit slow and also Some of the PC has been Struck at Installation part and If you cancel that again it's starting from beginning. So be careful at this point, don't show your frustration on it be patient.
 Be calm and Patient while Downloading/ Installation.
Some of the Driver may be gone, so install it manually then again forcing it for re-installation.
DESIGN AND COLOR: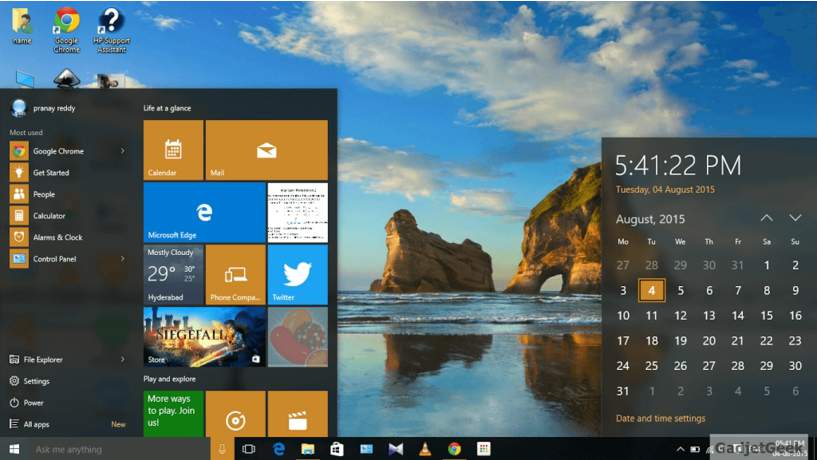 Keeping in Mind of the present trend of Materialistic design, Microsoft has come up with the additional color setup for Start menu and also for Date and Time options, Notifications, Battery and also with ready to go and easy navigation options provided are an added feature.
TASK VIEW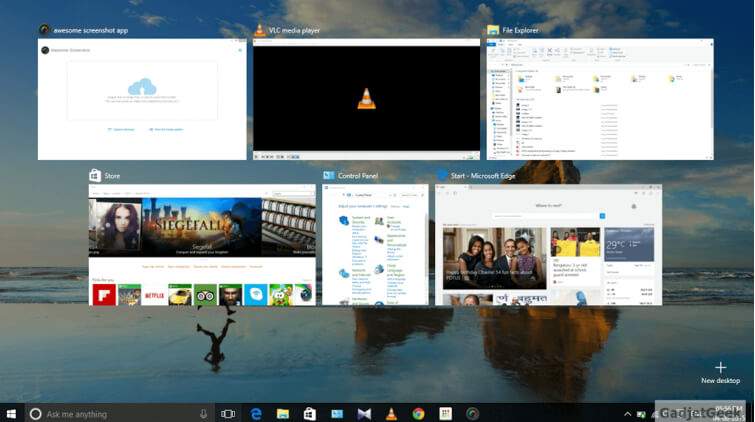 Now this is my favorite one of all, as Microsoft is always finding it difficult for task manager, this time, it gave more importance to that and everyone is impressed about that.It's included in Taskbar and also with a similar Look of Apple IOS tabs which look like a shelf, but this will look like an assembled cards on Board.
TABLET MODE & EDGE
Some of them like  Windows 8 view, so keeping this in mind, they have also given Tablet Mode option. Where you can use it as Tablet which will Look like Windows 8 interface and also which feels exact like Tablet for Touch Laptops.
Microsoft Edge Browser which is much talked one, Icon which Looks similar to Internet Explorer but it is way much faster than other.I haven't experienced any lags or Slowness in this Browser. So I made Edge as my default Browser, which features Bing as its Search Engine.
CORTANA
Cortana is undoubtedly the biggest thing in Windows 10 and also it doesn't disappoint, which functions similar to Siri In Apple IOS. They are reportedly some problems on Cortana which is showing unavailable for some regions.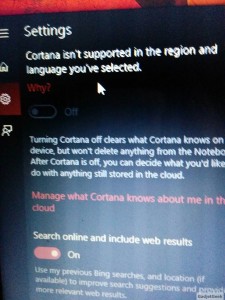 HOW TO SOLVE ISSUE WITH CORTANA
This issue arises as Cortana isn't supported in regions, presently only available for few regions, Still If you want it then you can follow these Steps.
Go to Language Settings beside Date and Time
Change the Language preference to English ( US )
Also, change the Country to the US and that's it Cortana will be available
Still If the problem persists Restart your system, then you should Find it.
Windows 10 is by far the biggest leap in Microsoft History and also it proves it worth. Upgrade your Windows to Windows 10 and enjoy these features and also many more.
Subscribe to our Newsletter and also Follow us on Social Networking Sites.