Last Night when I was Preparing Myself to Sleep, Just when I was Switching my WIFI off, then came Notification that New System Update is Available i.e Android 6.0 MarshMallow. So I jumped with Joy and Updated it. The Update came with 408 MB and Stated it will take 45 Mins to Install the Update. So After the Installation & update then Came to the MarshMallow in my Nexus 5 and I was Ready to Explore it but Saved the Joy for Next Day Morning and Decided to Write my review on this New Version Of Android.
ANDROID 6.0 MARSHMALLOW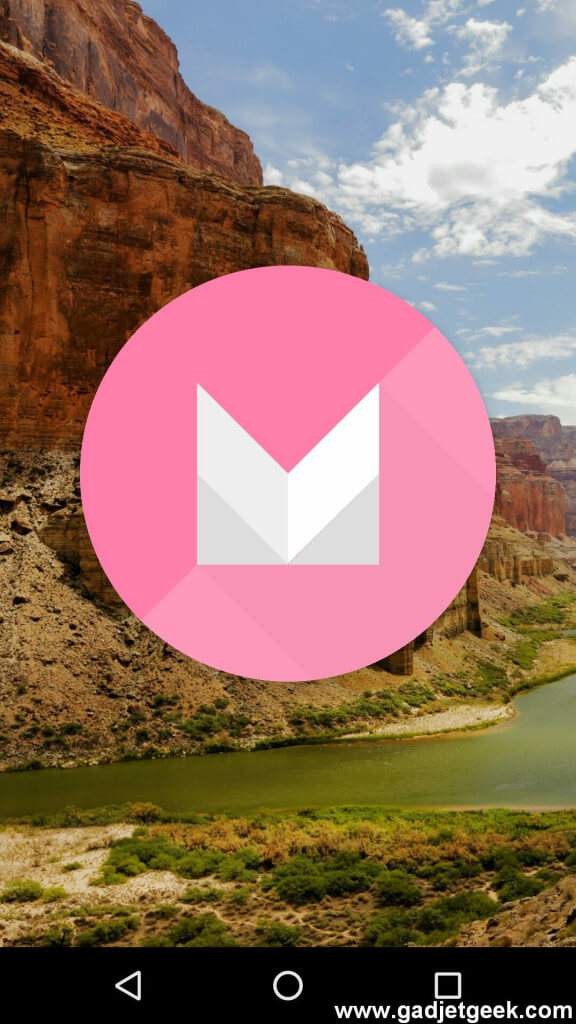 Google has launched its Much awaited Android Version, which was Announced in Google I/O Extend. This Android Version, which is termed as Android 6.0 MarshMallow has different Options, such as Doze Mode, Now on Tap, App Permissions, App Links, Backup and Restore Options.
MATERIALISTIC DESIGN
Android 5.0 Lollipop has been a Big revolution in Mobile OS, with its Materialistic Design and Cool Graphics and Colors and Animation. Now After a Year of it release, this MarshMallow has rejuvenated the Materialistic Design and the Graphics has been Updated  to perform more smoothly. You can see this when opening an app. If you want to check the visualization of this Android M, just go to Hangouts App, you can see it clearly.
APP PERMISSIONS AND APP LINKS
I think many of us Experience this when typing the message in WhatApp then Accidently you click on MicroPhone Option and its Records your Voice and Sends it. Maybe a little teasing, but sometimes it can be Awkward. So this can be disabled by Restricting your App Permissions.
These Features like Accessing MicroPhone, Calender, Body Sensors, Contacts, Location, SMS can be Disabled by turning off these Options in App Permissions. ( go to Settings>>Apps >>Click on Wheel >>App Permissions. )
App Links are those, like When you Open your Mail and find a Link Regarding twitter or FaceBook, You expect it to go to the Related APP, but it Asks About opening in App or in Browser. So these Can be Disabled using this App links. Where you can directly go to Related Apps.
DOZE MODE
This is the One most Useful one, which is related to Battery Usage which is Big Problem. So this Doze Mode will Helps to Increase Battery life. But How?
It's Simple when you Leave your Android Mobile somewhere else, the BackGround Apps will be running and it will Lead to Draining of your Battery. So this Doze Mode will Switch your Mobile to Hibernate or Sleep Mode when you Left it without Using, Restricting your BackGround App Usage when not in Use.
NOW ON TAP
This Feature has gained some eyebrows, with its Name and usage, this is the Standout Feature in Whole 6.0 Package. To use this Feature just Long Press on the middle button of your task manager and it will scan your screen and present you with available options. you  can see Now on Tap demo in Below Pictures.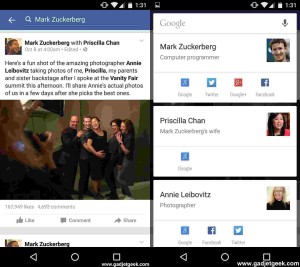 You can when I used Now on Tap on one of the FaceBook Post of  Mark Zuckerberg, then it shows the results by analyzing the Persons in that Passage by Mark. You can see, it shows the analyzed results of Mark Zuckerberg ( computer Programmer), Priscilla Chan ( wife ) and also the PhotoGrapher. This Feature is very hand and Expected to be one of the Favourite.
OTHER FEATURES
Some of the Minor Changes in the OS Â which I have observed
All the Apps will now Show on Only one Screen with Scrolling Down Option and also with Provided Search Box Above  ( earlier it has many pages )
Separate RAM manager has been Allocated.
No Need of Any File Managers, Inbuilt File Manager for Internal Storage. You can access it through. Settings >> Storage & USB >>Explore.
You can Clear your Data and Cache of your APP by Navigating Through Settings >> Apps >> Click on App >> Storage >> Clear Data & clear Cache.
Can Enable Battery Optimization for Individual Apps.
Separate Option for DND ( Do Not Disturb ) mode
Three Sound Options ( RingTone, Music, Alarm ) in One option with the Materialistic design.
Enhanced Dialer and Contact Display
New Android 6.0 MarshMallow Wallpapers
In Built Game of Flappy Android is Made Easy to play.
There are so many options that are missing from Developer Preview of M, In developer Preview there is an Option for theme Change and also for UI tuner but I couldn't find any. I will take the time to explore it. This is My 1-day Experience with Android M and also, Share yours in Comments and Like us in Social Networking sites and also Subscribe to our NewsLetter.