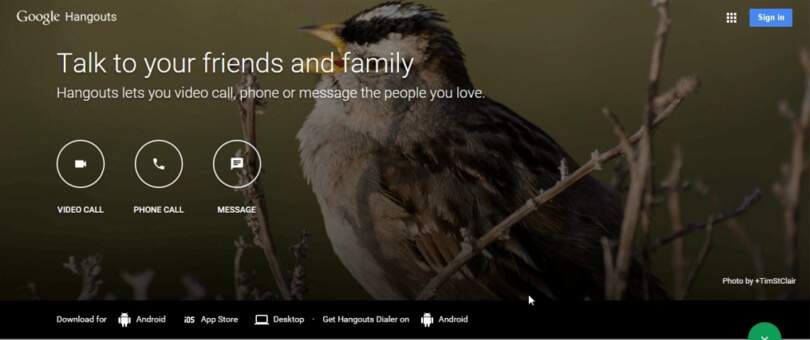 Google Hangouts Launched its own Website just like WhatsApp web and Facebook Messenger. Google which was Acquired by its Parent Company Alphabet Last week to Focus on Current Projects has promised More of just with what's it has.We will dig into this New Google Hangouts Website by Google and let know the Interface and functions of it.
GOOGLE HANGOUTS
For Android Users, Google Hangouts is not a New Term and Now Google has given Opportunity for Web users to Experience the Power of Google Hangouts. With the increase in Competition from Fellow Companies like Facebook, So it has become inevitable for Google to Launch its New website for Google Hangouts.
You can Log in to the website with Existing Gmail account and You can roll over and use your  Google hangouts Account. Google Persisted with its Materialistic Design Approach and also With the Announcement of Android M ( Marshmallow ).
These are the 3 features given for Website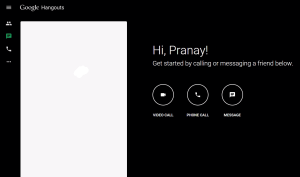 For any details on How to Record Google Hangout video, you can view over here
The Slider Menu which provided with the options of our Contacts, conversations and Phone calls.Also with the additional features of Downloading Apps from Google Play store and IOS store and chrome Store.The rest of the Settings are similar with that of Hangouts in Mobile.
PS: Google Plus Hangout is useful for Bloggers for Hosting live Video meetings in Your Google Plus Page and also there are Many features in this, which are Helpful for Bloggers and Drive More Traffic to your site. Here are some of the links of that involve this in Driving Traffic, Have a Quick Look over this.
Beware !!! Below Content May be Addictive.
For Latest News and Updates, Like us on Social Networking sites and Follow us and also Subscribe to our Newsletter by Email.