Everyone is smart nowadays with their smartphones beautifully enclosed in their palms. It has become easy to carry the whole cloud with the help of enhanced connectivity of 3G & 4G technologies but if we intend to transfer some GB of data from one device to another like from our friend's device to ours or in between our own devices like Phone, Tab, PC etc it wouldn't be a problem to transfer some MB of data with the help of Bluetooth but if the data is around some GB then it would take more time which is enough to make us tired in this fast moving world of technology, then what's the solution for that?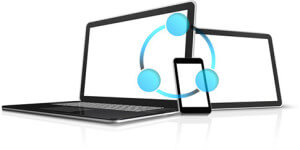 Why do we have to transfer data?
Do you love new movies, multimedia etc
If you are movie loving person like me then you would have the habit of carrying movies in your phone to watch them during long travel (like me who spends more than 4 Hrs  of the day in travelling from workplace to home & vice versa), but I don't own any store of movies I do get them from some of my friends for which I have to transfer/receive large amount of data. Since, the average size of any movie is around 700mb to 2 or 3 GB based on time or quality of the movie.
The traditional method for transferring is
Give my storage device (like pen drive or Harddisk) to my friend & ask him to place the movies, songs or some other multimedia
Then I have to get my pen drive from my friend after a day or two (based on his free time to transfer movies)
I have to come home transfer data from storage device to phone either via laptop & then cable or via OTG
Note: Moreover if you are trying to fetch data using USB devices from your friend's unknowingly it may carry viruses along with data from your friend's PC if it is effected with Virus.
That seems like a lot of activity for transferring data from one person to another person even after the technology has grown to such an extent.
Do you own an Online business
If you are designer/ photographer/ blogger then you tend to use your smartphone a lot for capturing an event through image or a video using your phone & if you have designed something on your mobile or if you have written an article on mobile being blogger & in the above scenarios if you have to publish your work to the world through the platforms like social media or blog or websites then I guess you definitely tend to finalize your work only after you upload it to your PC & then do the A/B testing whether everything is going to be delivered as expected.
For this to be possible you have to transfer the data from your mobile device like tab or phone to your PC (Windows or Mac).
Problem Number one is the time it takes to transfer a set of HD photos from your phone to PC or an HD video,
Problem Number two is if you use default editors to design your own images or write content it is very difficult to find them in the PC unlike in the phone where you can do a search.
Don't you want to use a tool if it solves all the above problems in a single shot & more over if it is well trusted & known technological Company & added to that if it is absolutely free.
ShareIt is the tool which I found in the process of finding the solution to the above problems which arise during transferring data between multiple types devices & the problem gets amplified with the size of data increases as discussed above. ShareIt is the product of Lenovo, which is one of the most reputed company in the world of computing & technology.
ShareIt was a free tool which is really an awesome thing, it helps you to effortlessly transfer data between your friends & your devices very fast, it seems like a lightening speed in comparison with the direct cable also & it's wireless. One more noticeable feature is it is platform independent as its compatible with all Windows, Apple, Android devices& an app is available in all those platforms which are the major players of the device market now (hope your devices fit into these, thankfully mine fit into them).
You can download Share it from here Share it Download
How to Use it
It is very easy to use it share it also, just open the share it app on your devices which you intend to share the data between and Click on the Send button (as in the image) from the device which you are using to send the data & Receive button on the device through which you intend to receive the data.
That's it the Sender device searches for all the available devices which are ready to Receive & on selecting the appropriate device the sharing starts within seconds the data between 1mb to 100gb can be transferred.
One more interesting thing is you can share your android apps also which we can't generally do on our android phones.
Note: When Sender clicks on SEND, receiver has to click on Receive for ShareIt to detect the receiver else receiver will not be displayed
The below are the screen captures & step by step description for you to guide you on how to share it very easily.
The steps for Sender
If you are using an android device to send a file no need to share it every time, you can just select an item select the option to share it & select shareIt app among the listed apps, by the way, remaining steps are similar.
Or you can just open ShareIt app & follow the below steps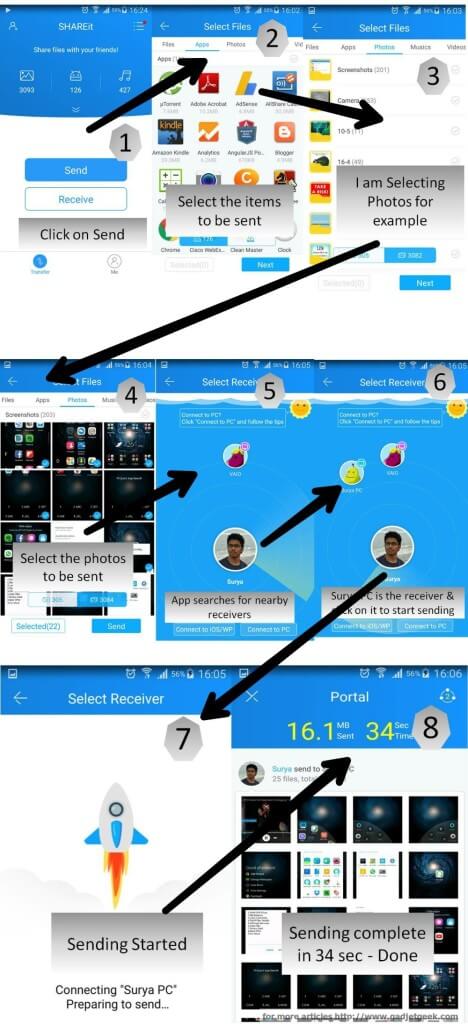 The steps for Receiver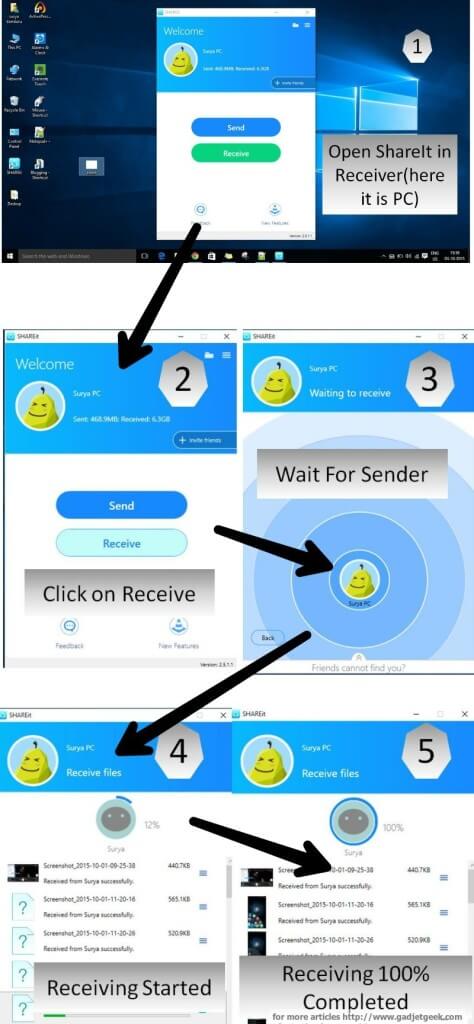 Thanks for Reading. Hope you have liked the post and I would be glad if it is able to solve your data transfer issue if you are facing any now. Please share the techniques which you use to share the data between your devices and with your friends through comments with me & our community we would be very happy to hear them.
This is a Guest Post Written by  Surya Konduru from Learning is Passion. You can Learn More about Surya and his Website here Learning is Passion You can also Submit your Guest Post ( Guest Post Submission )