Wanna Increase your Revenue through Ad sense?
If yes, this post is for you. These DIY tips will increase your Ad sense Revenue.
Ad sense Revenue:
Ad Sense is the One of the Best platforms for advertising. Though there have been Some issues like Fraud Clicking, Google Banning Ad sense account without any prior information, which results in loss of the HardCore Earned Money.Besides these reasons Ad sense Revenue still tall strong and the #1 Advertising Network. Â Here are tips to Increase your Ad sense Revenue. Hope this will change your Ad sense account to different numbers rather than zeros.
DIY TIPS TO INCREASE AD SENSE REVENUE
Revenue Sharing Sites
This may sound somewhat tricky. There are sites which will Use your Ad sense Ads and will display your ads and you will earn your revenue through it. If you're confused with it, let me explain with an Example.
Ad sense revenue will increase only when your Organic traffic is huge. If you have a well-established blog which attract organic traffic then this shouldn't be your problem. Go with the other case, where your blog is new and you struggle to get traffic. so you will use this sites and display your ads in their sites and of course, the sites which you use are well established and will get plenty of Organic traffic. so all you need to do is fight for a place in that site.
So, everything is well setup and where to find such sites?
I think everyone knows the Answer that is Google, just Google it.
SEE ALSO: Â Earn Money by Shortening URL
One such site is Techulator, Tony john is the Founder of this site. All you of do is Write articles, be active in forums and Ask experts section. Add your  Ad sense publisher code in settings and that's it. Your Ads will be displayed in between the articles you write.
Techulator also provides you with various options to earn money by posting articles, answering questions and many more. Once check out the site. Sign up for an account in Techulator, Techulator sign up
Google Consumer Survey
Google Consumer Survey(GCS) is a product of Google, where you can monetize your website by displaying surveys.A user who lands on your site will answer that surveys and you will be paid based on the response.You can customize survey and the number of questions in a survey and where to display them in your content.You should have an AdSense account to apply this and after applying, your website will be in a demo mode for the first month and then after you will be paid.
Keyword Research
This tip to increase through your own sites. Ad sense CPC ( cost per Click ) varies according to the country from which the click occur and also about the Keywords used in the article. Target those High Cpc Keywords and also watch out for the competition of those keywords. If you target high CPC keywords which are of High competition, you end of seeing 0.00 again in your Ad sense account.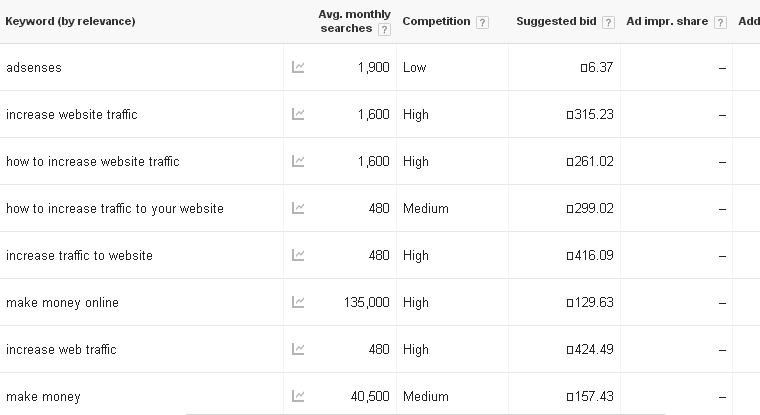 Be careful and Smart with a selection of targeted keywords. Use tools like Ad words Keyword planner and if you're more serious you can use tools like Semrush, which provides value for your money.
Once check if there are any Advertising at present looking for that Specific Keyword.
You can check that by checking the specific Keyword in Google Search and see whether any Google Adwords are displayed or not.
If displayed then that will be a profitable keyword and if not it is a dead one.
SEE ALSO:Â How to Earn Money from Blog
Use High paying Ads
One of the reasons that your CPC is less is that you're using low paying keywords and the other is that you're allowing to display Low ad impression and low paying ads to display on sites. One click on Google Ads is what everyone is waiting for and if you get that click and the CPC is low as 0.03$, you will be disappointed. Why waste that click on low paying ads, when you can turn them to something amazing.
Block all the low ad impression ads and this will allow you to display only Ads which are High paying.
Ad formats, Placement, and color
Ad sense ads should be placed such that it shouldn't look like an Ad. So try your best shot by selecting the color of Ad which will merge with your Theme and also run Experiment and test to check whether which Ad format and Ad placement will help to Earn better.
Other points to consider
Have Proper Keyword Density
Publish New Content Regularly
Adsense for Search: Add extra revenue source
Hope this will help you to increase your Ad sense revenue, this article will be updated regularly  and also Like and Share this article in Social networking sites and Share this information with others.
More Article you may like