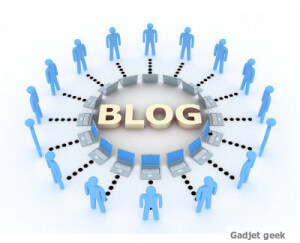 This article might be a different one from all of the other articles, as many of them asking about how to blog and where to start and how to start. So I decided to give an explanation and details about how I stepped into this field and maintain this blog.Now let's start this as am telling this assuming that you have zero knowledge in a blog.
Blog Hosting
When you start a blog directly, you can't do it. You want a blog hosting service. This blog hosting is like you will write your blog in their platform like in my experience it's Blog spot ( Blogger). Many of them are there apart from this like Word Press, Tumbler etc, but I recommend Blogger as your first of this.
BLOGGER
Now let's start this first you have to own a Gmail account  and I think everyone has one, if not you create one  Here. After creating this then open your Gmail account, you can find icon like this highlighted one in the below pic. When you click this 9 dot icon you will see a bar opened and if you can't find this Blogger icon then click More options then you can find it there.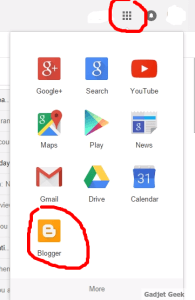 When you click that you will see that it'll open in a separate tab. Now you will see  NEW BLOG icon in that newly opened tab. Then you will see a Dialog box and Title is the Name of your Blog( which should be related to articles you write ) and Address is the domain name of your Blog( see that it is available )and Template is the design and Theme your Blog and don't worry this all are editable you can change it and after filling it click create Blog.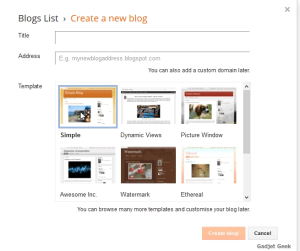 Now that's it your blog is created and enjoy blogging over it. Now before starting you should know a couple of elements over here. This is like your Home page and you should be getting used to it in no time. VIEW BLOG is where you can see your blog like how other's see's it.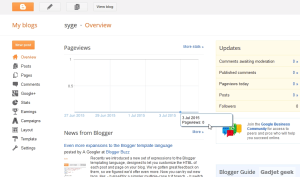 New post – When you want to write a new article.
Pages – The pages which you will see like About me, contact us, privacy pages.
Comments – When anyone comments on your article, you can see here.
Stats – Where you can see the number of views, traffic, source, audience etc.
Earnings – Let's keep this option out of our way because it'll not be in the active state unless you complete 6 months of your blogging.
Campaigns – Here when are too rich and want to spend some bucks on your blog go with this and you can start your ad words campaign.
Layout- It is the structure of your blog and all the widgets and gadgets, where you want them to see.
Template – Design of your blog, you can select from the given default one's or you can use others by Uploading XML file in Backup/ restore option.
Settings – the basic and privacy settings and other options which later you can understand by gaining experience.
And that's it you have created your own blog and now it's your own blog. Start blogging from here and write your articles.
With this your life may be just going but if you want to be serious about that and earn money from blog then take diversion  and be serious about this and now we will get into how we can earn from this Blog.
DOMAIN
>Now this domain name (xxxxxx.blogspot.com) will be cool but you should shift from this and add a custom domain to your blog like (www.xxxxxx.com), you can but a custom Domain from registrar which will charge you some bucks depends on which registrar you will use. ( I have used Go daddy which I bought this domain for 112 Rs ( includes tax)  for the first year and then after first year this will cost 600-770 per year ). I recommend buying this domain and give a professional look to your blog and redirect to your present Blog spot domain ( how to do that is quite a hectic process you can google it and if you find difficulties in that then comment it I will help you ).
If you are new bee just avoid this section for now and focus on writing articles and gaining Audience and traffic. Skip this section for now, After you can some knowledge about the blog you can return back and have a look at this section.
Before stepping into how you earn just know about these terms Ad sense, revenue, impressions, clicks. Ad sense is a Google supported advertising network when Ad-sense approves your blog then you can keep ad's in your blog and you will earn from it.
AD SENSE
style="clear: both; text-align: center;">