5 Key Things To Remember Before Starting Your Own Blog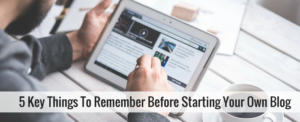 Blogging is huge. Hundreds and thousands of blog articles are published to the web every day. It is a terminal for people to share their ideas, opinion, and information with the world. Getting into blogging is an excellent idea; you can make money by sharing your thoughts, you can join with like-minded guys, and your content could change someone's life across the world.
Thinking that you'd like to start a blog this year?
Today I'm going to show you some essential points you should remember before you jump into the blogging.
If you pursue these suggestions, you'll save a lot of time and valuable energy.
Here are some of the most vital things you'll have  to pay attention:
#1. Self-hosted vs. free blog hosting
There is a load of different blogging platforms out there; so how do you choose the right one? First, think about the ultimate goal of your blog before starting it. Would it be a personal blog just to share the ideas with your family and friends? Or Would it go to be a business blog to make money?
I am also a strong believer that free blogging platforms like Tumblr, WordPress.com and Blogger will not give you the full ownership, control, and branding options that you need.
Here's a quick post that shows you the differences between a free WordPress and self-hosted WordPress blog. Even here you'll notice that the differences are enormous.
#2. Choosing a Domain Name
Your blog's name will be your brand. When someone refers to you, they will usually refer to the content you have published on your blog. Choosing a right domain name is crucial. You can go with your name, but it is always better to pick a name that should be easy to remember.
It's not necessary to choose the domain name which represents the topics you write.
Check out the tips to choose the domain name for your blog.
#3. Make big Connections Early
An elementary nail that most of the beginners in blogging fail to hit is the connectivity. Blogging success is Tied with the relations we form. For a good start, I would suggest you connect with bloggers about your niche as soon as possible. It should not b necessarily spamming them with guest post requests, rather go for some genuine friendships that can support and guide you in the long run. Good bloggers can be easily found on Twitter. You can share their content and start as it being a little gesture of introduction.
#4. Active and Smart Work
After outlining, it's time to begin performing and doing disciplined practice. Be sure you reach your target dates. Discover out the best ways to stay active and productive in writing articles, as well as on social media sites. To maintain and to promote all the blogs is a very time-consuming task. Blogging is not only about writing articles. Blogs need constant promotion and maintenance to boom.
Therefore, If you are on the verge of creating a blog network, be ready mentally, physically and spiritually for all the hard works and times waiting for you on the way. They would make the destiny even more cherishing.
#5. Blogging needs Consistently Working with Patience
Don't assume to get rich overnight. It always takes the time to establish a quality and authority blog and a faithful readership.
It's forthcoming incomplete analysis: the income would be earned finally, but blogging is not a Richmaker instant scheme anyhow. If you go on with this aim; it would be better to hit a lottery ticket instead; the chances would be higher there.
# Bonus Point: Responsive blog designs are a must
Tablets and Mobiles are now a prime source of traffic. If your theme doesn't react to the miniature screens, then obviously you will be going to loose your good traffic as people click away to find something easier to navigate.
Conclusion
So After going through the above key areas, I guess you are driven up now. All set to head towards creating your blog. Â 
WordPress is the only way to go. You also need to consider about your users if you are serious about making money online. Go on polishing your writing skills (or you can learn and improve blogging) and a right web host is also fundamental in a profitable online business.