To Get Rich, you Have to Be Making Money While You're Sleep
EARN MONEY ONLINE
Best Way to Make Money in College is from The internet.Now that's the way Earning Money does, but that's not easy and also Many are driven to different paths for Earning money and Some stuck in Fake ones and Some felt Bored of that. Earlier I have shared Ways to Earn Money From Blog. As one of the themes of Starting this Blog is to Share Various things About Earn Money Online, Now we will Look into a Way, where you will Earn money Online Just by Sharing Shorten Links.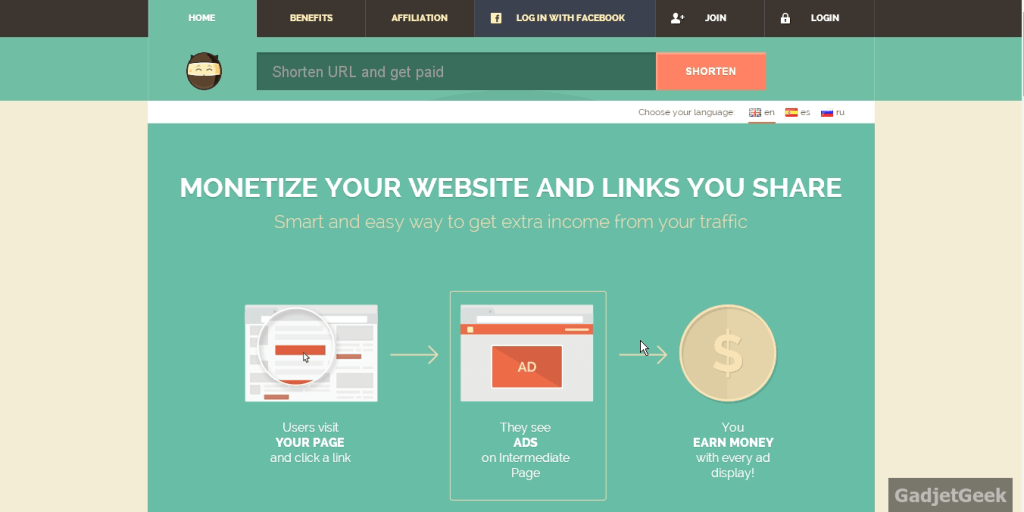 Shorte.st is a Website for Shortening URL and Earning Money through it and what it does is Advertisements are shown to user Before Landing to Website. It justs displays an Intermediate Advertisement on Another Page and Later redirects to the Desired Page. They pay for Pay per Click by ecpm and eCpm varies for different countries and by default top one will be from United states.
payout Rates
Payout rates Depend on GeoGraphical Location of Click and also ecpm varies and also I already Said, Highest Being United States.
United States – $11.04
Qatar – $8.85
Australia – $5.98
Above are the ecpm which is for 1000 views and also Specific Country ecpm will differ from others. You can view in Payout rates for Traffic from all countries.
PAYMENT METHODS
Payment, for Now, supports through Paypal, Payoneer, Webmoney
Minimum Payout is $5 for Paypal and Web money
For Payoneer, Minimum Payout is $20
Payment is on 10th of every month
Apart from these, there is an Affiliate Program for this, by which you can earn Lifetime commissions by referring others, which will be handy one and all you get are 20% of what your referral is earning.
SEE ALSO:Â Android 6.0 MarshMallow Review and Features
PROS:
You don't need any Website or Email list to Earn Money Online, all you need is a Twitter or Facebook or Any social networking site, with Good Number of Followers.
If you have your own blog, Rather than placing ads in Blog, this will be the better way of advertising.
Website Monetization Tools are provided with your Account.
CONS:
ecpm is low for specific countries
You can Sign up For Shorte.st  here   Shorte.st Sign Up
Patience is the Real key to Earn Money Online and Spread out your network and also increase your referrals to enjoy your referral commissions. Don't forget to Share this article with your friends and also Subscribe to our Newsletter and Follow us on Social Networking sites to get more News like this on How to Earn Money on the internet.