The top 5 myths about using a Mac computer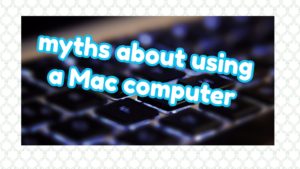 As with anything, there are common misconceptions and myths floating around about Mac computers and how they are inferior to PCs. This article will present some myths and dispel them through research.
1.Microsoft Office does not work on a Mac. Perhaps the number one myth that is floating around as the truth is the idea that Microsoft Office software does not work on Mac computers. The truth is that Microsoft Office is available for Mac computers and in fact functions just like the PC version. Don't just take our word for it, Download office for Mac instantly today and find out how easy it is to use!
2.Macs are easier to use than PCs. Due to the streamlined look and feel of the OS X operating software, there has been a myth for quite some time that using a Mac is easier than using a PC. If you are a first-time computer user, this may be the case. Or if you are a person who uses their computer at home for email, Facebook, and general surfing on the web, the Mac may be easier for you to use than a PC. While installation is more intuitive than a PC and you do not have to click around to make things work on a Mac, they can cause limitations for users who want to have more hands on control of the inner workings of their computer.
3.Macs are better at graphics. It is true that Macs are better suited for those who want to work on graphics applications however there have been recent advancements in the PC functionality realm. Sure, you can purchase a PC for the same price but Macs have much more style and pizazz.
4.Macs do not need anti-virus protection. While it is true that Macs are less likely to get a virus than a PC, there has been a significant increase in Mac related viruses since 2010. There are plenty of professional hackers in the world who are working diligently on a daily basis to figure out ways in which they can infect a Mac. If you are a Mac user, you are not immune to pests, but you are less likely to have to deal with them.
5.Macs work better with Apple brand accessories. All Apple accessories are designed to go together. From the look, feel, and style of the products, the monitor, keyboard, mouse, and speakers all match. Further, adapters and various cables or cords also match the clean and sleep Apple style. While all the accessories look lovely with the computer, you do not have to spend the money to purchase them. You can purchase other brand accessories that will work just fine. For example, a Logitech V470 Laser Mouse is less expensive than the Apple Magic Mouse and will work just fine with your Mac computer. Next time you set out to purchase a new accessory, don't feel pigeon-holed into purchasing only Apple products.
I hope you all like the Article on myths about using a Mac computer
More Such Article you May like as