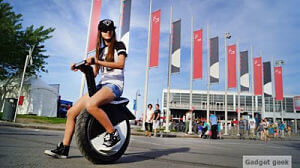 In recent times where more civil constructions of Roads and improvements to the previously built ones and flyover's everywhere to control Traffic. As car's provide comfort, nobody is worries about the pollution and the space that is occupied on the road which should be used by every one. Many of the corporate companies has been encouraging Cycle's for travel of their employees and also to use in side the office campus. Now when two wheels are cool then one wheel will be even super cool. These one wheel motor cycle known as unicycle occupies less space and also easy to carry and travel in any area provided. Let's have a look upon a Self balancing Uni Motor Cycle by Moto Pogo .
HOW DOES IT WORKS
This self balancing motor cycle is powered by battery of  60 V 10 A Lithium Battery using Brush-less hub motors with a maximum speed of 25 K MPH. Learning to ride this is easy as nothing is involved in it just to lean forward or backward of the body will control it's motion. So it makes it easy to Control and enjoy by a few fumble by it. It has been made it advance sensors and algorithms which balances it and gives you the control of it.
This is powered with Gyro sensors and Accelerometer sensors which gives feedback to the processor that will determine the exact speed by which it should drive based up on your body position and how you lean your body. The algorithm which develop makes you sure about the acceleration and regenerative breaking and ensures it to run it smoothly.
You need not to be worried about charging ( as the battery is electrically chargeable) the charging of this cycle is indicated by LED lighting of five steps and also provided with a powerful  LED Torch for front line light to travel in night and dark light area's.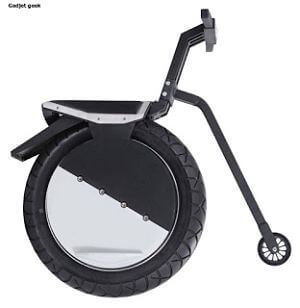 For safety purpose, they also provide a safety front wheel for balancing which is removable, which you can use for practice purpose. The Kit which you will but contains this extra secondary wheel and Helmet and also pads for protection to knees and joints. The legalization of this vehicle change by country too country so before driving and bringing it up the roads first check about the legality of using this vehicle.
They made sure that this is completely Eco friendly and by this you can travel up to 30 KM and it will complete it full charging from dead by 4–5 Hrs depends on your power supply. This is ideal from those who wants to travel short distances and to quick enough without wasting time in traffic and in Shopping malls roaming and shopping makes much simpler as it is easy to carry, you can also climb steps with it and then you can run on the tiles and enjoy your shopping.