Incognito VPN review
In our series of VPN services reviews, we present a review of Incognito VPN Review in today's post. It is one of the recently launched VPN services. As the name itself should indicate, the VPN lets you stay incognito with your online activities and thus keeps your privacy and security safe from the prying eyes.


What is Incognito VPN?
Incognito VPN is the latest entrant in the VPN and private space arena. It is owned and operated by Pseudo, a the United Kingdom based technology firm.
Incognito VPN claims that it is the only VPN service that provides you 100 percent anonymous browsing and other online activities. Being one of the latest VPN service providers, they currently have quite a few server locations and IP addresses. Given the quality of service they have been offering as of now, we may expect improved performance regarding server locations in the future.
A Few Features of Incognito VPN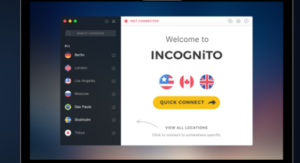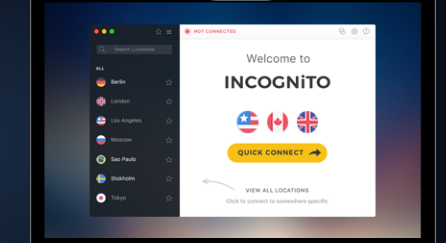 One of the strong proponents of net neutrality, Incognito VPN comes with several good features. Some of them can be summed up as here below
Servers – This is an important aspect that should form the basis while choosing a VPN service. Incognito has over 35 servers located in across 24 countries. Though the servers are limited in number, yet their strategic locations make them widely accessible.
Multi-Platform Compatibility – Incognito does support almost all platforms. It is available on Windows, Mac, iOS and Android. Unlike he other VPN services, Incognito also has a client for Linux. They have claimed that they will soon come up with versions for Chromebook and WindowsPhone.
Interface – The interface and functionality are fairly easy to follow. It does connect quite seamlessly across your ISP, a 4G mobile network or WiFi.
Encryption Protocols – Incognito VPN offers you four protocols to choose from – IKEV2, PPTP, IPSec, and OpenVPN. You get AES 128 and 256-bit encryption, thereby ensuring secure and reliable browsing experiences.
Plans and Pricing
Incognito offers you some affordable subscription plans. You can choose the one that meets your needs.
Cloak Plan – This is the basic plan. You will be charged per month basis. The subscription pack will cost you $ 3.99 per month. The benefits included under this plan include access to 7 server locations and one device connection.
Disguise – The Disguise plan costs $ 4.99 per month. It is the best option you have on Incognito VPN. The plan includes access to over 30 locations and three device connections.
Anonymous – This is the highest priced plan provided by Incognito. It costs $ 5.99 per month. This plan too offers you access to over 30 locations and five device connections. The Anonymous Plan also offers you Smart DNS service.
All the above plans come with Unlimited Bandwidth, Unlimited Data transfers and access to all protocols.
It should also be worth to notice that Incognito offers you a 30-day money back guarantee. If you are not satisfied with the services provided, you can opt for a refund.
If you are looking to now more about Best Torrent Sites to Download eBooks
 Incognito VPN Review on Customer Support
Incognito VPN offers a well laid out customer support system. It has four separate channels to handle customer grievances. All the three channels work with a fair deal of ease.
The 24 x 7 Live chat support is available round the year. The customer service representatives are knowledgeable enough. Almost all your product related queries are handled efficiently.
If you have an advanced issue, or in cases where you have to escalate the problems to higher rungs, the email ticketing system would be the best choice. The system is well distinguished by sorting the issues based on whether your issues are Technical, Sales or Billing based.
The FAQ section on the site is well laid out. There is a well-explained knowledge base on their website. It is equally helpful to the advanced as well as novice users to find answers to the queries they may have. There are complete guides to help you set up and configure the VPN service on different platforms.
Privacy and security of Incognito VPN
Incognito VPN Â has a strict online privacy regime. The service is DMCA compliance. The privacy policy of the service has no information on whether it collects your personal data.
The service does save your personal information in the form of contact details, payment information and other details. Incognito also conducts customer surveys. It depends upon you whether you would wish to respond or not, but if you do you are likely to be accessed by social sites who may have a peek at the information that you have.
Incognito VPN records your original IP address, user VPN username, and protocol being used by you. Also, it claims that it can use the information that it has collected as long as it wants.
The Pros and Cons of Incognito VPNÂ 
As with any software product, Incognito to has its own merits and demerits. Let us sum them up here
Pros
Affordable plans
Free trial offers
Multiple platform support
Excellent customer support
Various protocols
Cons
The privacy policy appears a little intrusive in nature
Fewer server locations
Does not support anonymous payments
In Conclusion
I hope you All Like Incognito VPN Review. It offers some features not commonly observed in other VPN services. Its affordable pricing and a 30-day money back guarantee should make it a perfect choice for the budget minded. It also offers you unlimited bandwidth and data transfers across all its plans.
One of the issues we faced with the service is it does not come with a zero log policy. It does keep a record of your IP address, your username, and duration of your session. Â However, it claims that it does not keep your browsing data. Though it is one of the newest entrants in the realm of VPN services, it does offer several features that set it apart from the competitors.
Have you used the VPN service provided by Incognito? Do share your views and opinions about the service and the benefits it provided you. It would be beneficial for our readers.
You make like to know more about technology topic like
I hope in this Article of Incognito VPN Review I have Covered every Things If I hve Left sSome Features please do reply in Comment 
 
Summary

Author Rating





Software Name
Operating System
Software Category
Price