Hostinger web hosting Review 2019
Blogging has been catching up quite faster. But, if you want to make it big in blogging arena – what you need is a good hosting service and an affordable hosting plan. From that point of view, a good hosting service is the need of the hour and our pick for the day is Hostinger Hosting Service. Let us check this top web hosting service in the following paragraphs.Let Look At the Hostinger web hosting Review 2019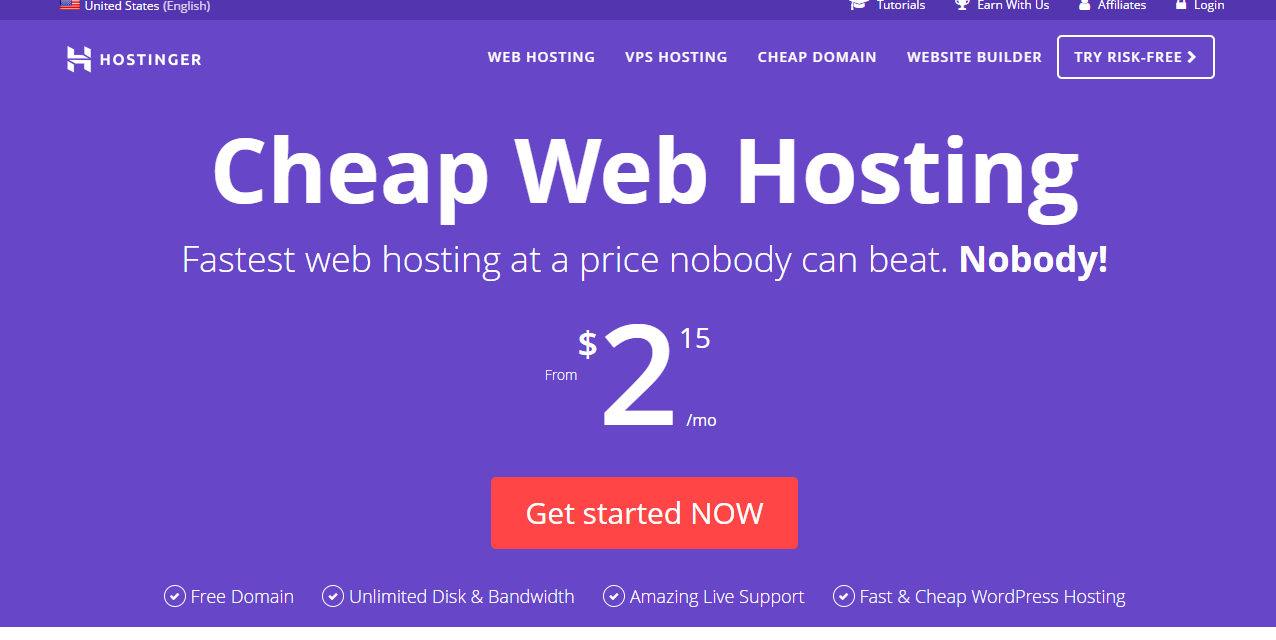 Hostinger Hosting – Is It Worth it?
Hostinger made its beginning as a free web hosting company. The company was founded in 2004. During the initial days, Today, after 13 years ahead, the company has a customer base of over 30 million with around 10,000 new registrations every day!
That should speak of its popularity. And yes, we should make a mention that the service still provides a free web hosting service. The free service comes with a few features found in the paid hosting as well. However, one should remember that free hosting is what you can depend upon during the initial days of blogging career.

The Features
Before moving on to understand the plans offered by Hostinger, we will check out the features of the services that would make it one of the good options.
Uptime and Page Loading Time
Hostinger claims that it offers you an uptime of 99.9 percent. Of course, it may be an exaggeration. However, the inputs from the actual users have indicated an uptime of at least 99.90 percent.
The website load time is quite comfortable enough. However, it has been observed that the speed falters when the hosting service is used by heavier websites. If you have a website that has richer graphics and CSS, you may begin to face some issues. We would hope that Hostinger takes some steps to improve the speed.
While you thrive to boost the speed of your website, Just make sure you have got the right technology installed on the server. This includes the number of ports open on your server, hosting software installed, WordPress themes and plugins (that adds some external script or code to your website's HTML output). Uploading the fastest WordPress theme on your WordPress is a great idea when the theme is SEO ready as well. Hostinger offers the best server configuration for your server while you decide which WordPress theme to install. 
Website Builder
Website building is made easy, thanks to the customization used by Hostinger. You will find the control panel different from the cPanel that you are accustomed to. Hostinger has customized the control panel considerably so that even a newbie would be able to use it.
Creating subdomains, databases and managing email accounts is made easy. The website builder used on the hosting service is Zyro Builder. Hostinger supports a host of scripts like WordPress, Joomla, and others.
Customer Support
Customer support provided by Hostinger is quite commendable. The live chat support is excellent enough. However, we felt that there are not enough customer care agents to handle the task. However, you can get the offline support if you are in a queue for a considerably longer duration. Just share your email ID and they will get in touch with you.
There is also an email support system. The average reply time was found to be just under 20 minutes which may need further improvements. The FAQ section or the Knowledgebase as it is called is considerably effective.
Hostinger web hosting Review  and The Hosting Plans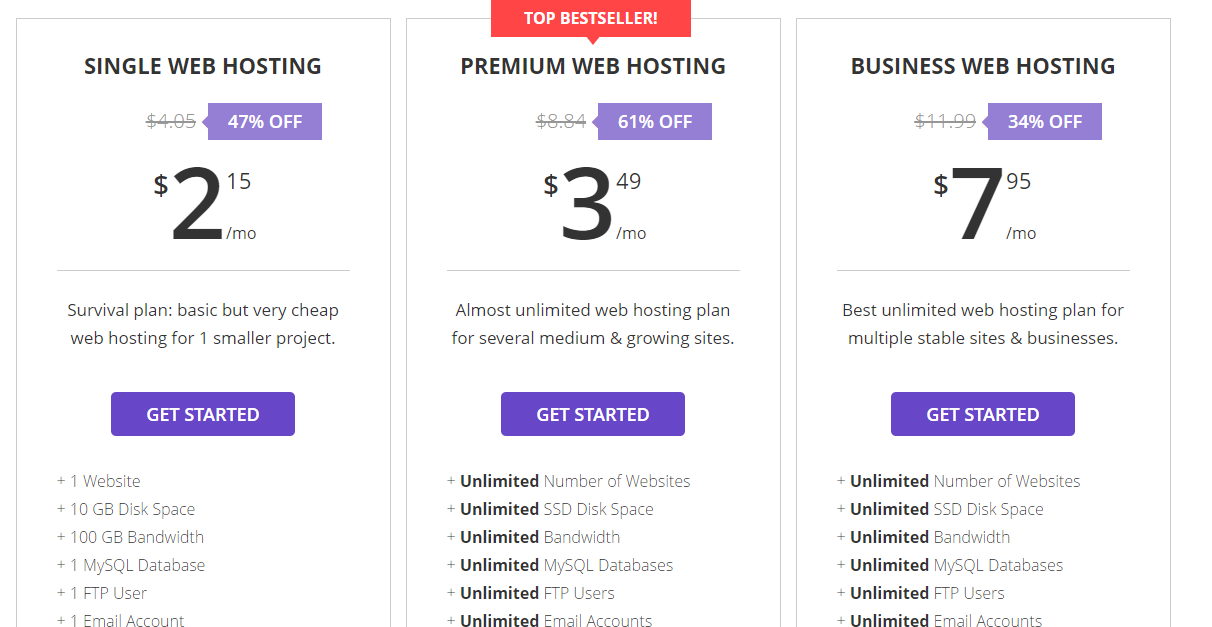 Hostinger provides you two different types of hosting plans – Cheap Web Hosting (or Unlimited Web Hosting) or Cloud VPS Packages. Let us check out the plans in a finer detail.
Cheap Web Hosting
The plan comes with three subcategories – Starter, Premium, and Business. The plan details are as follows –
• Starter Plan – It will cost you $ 2.15 per month. You can use the plan to host one website. You will get 10 GB of disk space, while it provides you 100 GB bandwidth.
• Premium Plan – The plan costs you $ 3.49 per month. The plan suits the medium sized websites. You get unlimited websites, disk space, and bandwidth. You can also get 3X optimised WordPress speed. You also get free domain name with the annual plan.
• Business Plan – The plan costs you $ 7.95 per month. If you have multiple sites and businesses, this can be your best choice. Apart from the benefits under Premium plan, you will get 5X WordPress optimization plan. It will also offer you 2X processing power and memory. The plan also comes with daily backups.
Cloud VPS Hosting
Cloud Hosting Plan is available in six different options. You can be assured of high-end technology that offers affordable services for all your needs.
In addition, it would be important to mention their free hosting service as well. However, the free service is not suited for a regular website or blog. It is marred by frequent downtimes and outages. It would be best suited if you want to learn and test website building and the other techniques involved in website creation and hosting.
In Conclusion
Would we recommend you use Hostinger Web Hosting? Well, there are several views here. If you check it from the point of view of the prices, features, and bandwidth – Hostinger has a few really cheaper options. But, from the performance point of view – Hostinger leaves a lot to be desired. We would hope to see improvement in website load time and customer support departments.
In fact, we would consider it as the best option if you are just entering the web hosting arena. We would consider it one of the best hosting services that encourage the newbies to the online world and the world of website creation.
I hope you All like the Article on Hostinger web hosting Review 2018 with All Server Packages 
More Such amazing Article you May like As
Summary
Reviewer
Review Date
Reviewed Item
Author Rating