Fastcomet hosting review 2019
One of the toughest choices a blogger is expected to make is choosing a capable hosting service. There are several hosting services that try to woo you into their fold. Even when most of them advertise a whole lot of features, most of them tend to be not fulfilling the promises that they make. Analyzing different hosting services before taking a final call is one of the important aspects of a successful blogging career. From that perspective, we review one of the prominent hosting services in this article. Let us go through the complete set of features, plans and support system of the FastComet Hosting Service. We promise you that it will be a comprehensive FastComet Hosting Review that will aid you in making a good decision.

FastComet Hosting Service – An Overview
FastComet is one of the widely used Web Hosting services worldwide. They had their beginnings in the 2000's as a company providing System Administration services to business and private clients. They shifted to the public domain in 2013.
FastComet has over 11,000 registered customers across over 70 countries worldwide. What makes them one of the preferred web hosting services lies in the fact that the company values ethics more than business. It is evident from its policy that does not allow businesses in the dubious nature like child pornography, scams, violence, intolerance of race or religion, viruses, and spam.
Fast Comet provides its services across a huge genre. Some of the worthy mentions could be Web Hosting, Cloud VPS Hosting, Dedicated Server Hosting, Open Source Hosting, WordPress Hosting, Joomla Hosting, Open Cart Hosting, and Social Engine Hosting accounts.
The Features of Fastcomet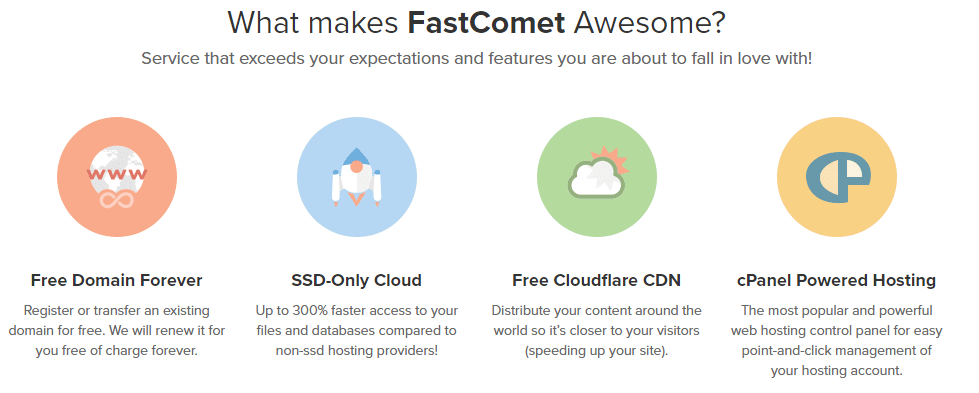 Well, FastComet assures you world class service for its customers. Some of the features that would make you take a decision in its favor would be the fastest speeds, A good number of offers available quite frequently, and free backups.
We would consider the free backup option to be one of the unique features that the service has on offer. While other services charge you for the same, FastComet offers free backup options. You can choose between weekly and daily backups.
FastComet also comes with a unique feature unseen in competing service providers. You can refer FastComet to your friends and in turn get free hosting. For every one friend who signs up, you will get three months of free hosting.
Let us find a few facts about the service to make you acquainted with it –
Uptime
FastComet has a good uptime. Most of the customers report an uptime of upwards of 99.99 percent. Any hosting service that provides you an uptime below 99.92 percent may not be best suited for the health of a business. This gives FastComet an upper hand.
Server Locations
FastComet has servers spread across major locations around the globe. Choosing a server nearest to your geolocation can help you get better speeds. Every server has a 24 x 7 power backup, fire protection and other essential requirements. The servers are located at 1.      Chicago – USA, Dallas – USA, London – Europe, Frankfurt – Europe, Amsterdam – Europe, Singapore – Asia and Tokyo – Asia.
Page Load Time
Load speed can be an issue with FastComet. It has been observed to be a bit slow even with optimizations and data compression. This could be one area that FastComet needs to take care of.
Pricing and Plans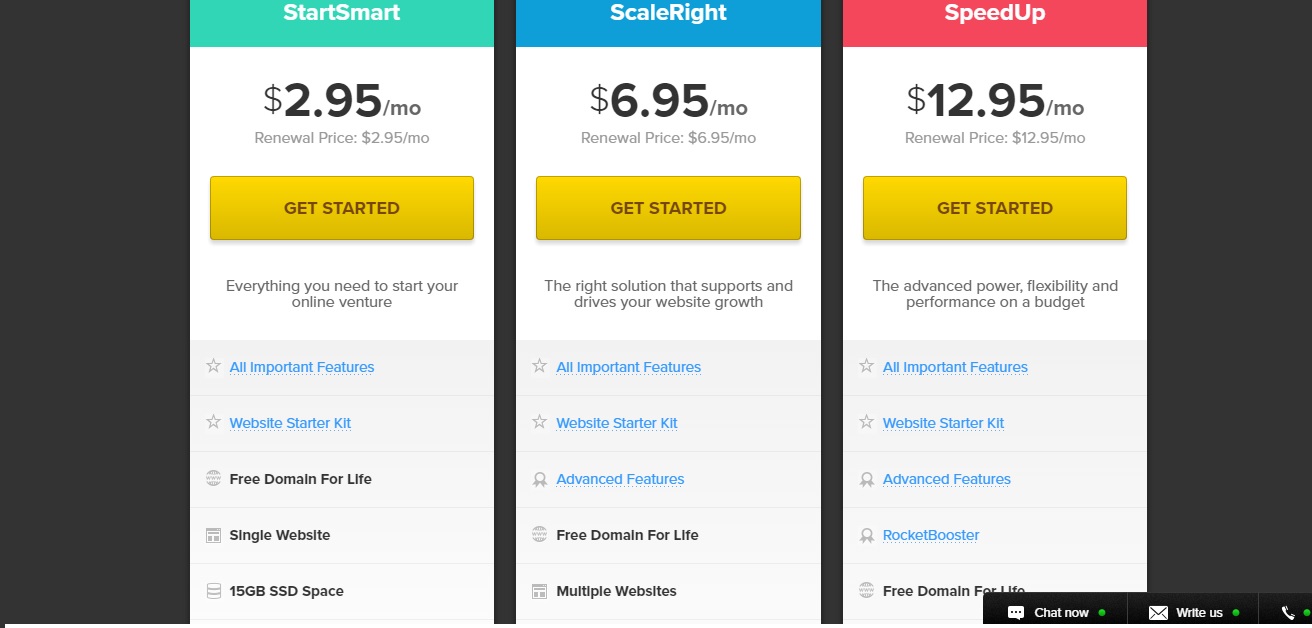 As stated before FastComet has several services which include WordPress Hosting plans, Joomla Hosting Plans, Opencart Hosting and Social Engine Hosting. It offers you customized plans for each of these genres.
We have taken the plans for WordPress Hosting as a reference here. The pricing will differ only minutely with other genres. You have three plans to choose from – StartSmart, scale right and SpeedUp. Â 
Each plan comes with free domain registration, Free CloudFlare CDN Caching, daily backups, unlimited email accounts, and unlimited MySQL database. And yes, there are no additional charges for hosting renewal. You will continue paying the same price as the one you paid during initial purchase. That should be in sharp contrast to the competing hosting services.
After Sales Support
This is an area where FastComet excels. It has been considered to be one of the fastest in terms of customer support.
Their LiveChat option gives you a response within seconds. There is also a toll-free telephonic support along with Email redressals. You can also opt for the support ticket through their web portal.
A few Pros and Cons
Not to miss, here are some of the Pros and Cons of the hosting service for a proper analysis.
Pros
Support for a huge list of services.
An excellent Uptime comparable to the best in the industry.
No hike in renewal prices.
World-class customer support.
Lifetime Domain Hosting
Free weekly backups.
Cons
Slower Page loading time.
Complicated cancellation policy
Final Thoughts
If your website handles the lower amount of data, FastComet can be a great option for you. The only glitch with it is the slower page load time. They have in the business for less than five years and have been constantly upgrading their services.
The best prices, an excellent uptime, and industry best customer support system are the features that go in its favor. If they can somehow improve their page load issues, they can definitely be a force to compete with the likes of Bluehost and other such popular hosting services.
I hope you like the Article on Fastcomet hosting review 2017 
More Such Article you may like as
 Don't Think more buy now Soon before the Price get the increase