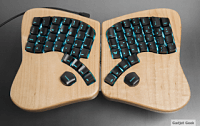 Keyboard, now this a common thing for a personal computer(PC) or a Laptop or a Mobile device.Now Android Keyboard's are coming with predictive text and swiping text, but when we are coming to keyboard's for PC and Laptop, this Keyboard may be not that user-friendly.
As a whole compact board, it looks good, but for those who use it for a long time may get worried with Problems arising in their Fingers and Hands. Now to eliminate this problem of the compact board and the wreckage of hands due to Long duration typing, this Butterfly Keyboard ( Heirloom Grade keyboard) solves your problems and make typing fun.
 Macbook Butterfly Keyboard
Now coming to this New type of keyboard the team which is behind it to make it possible learned all kind of stuff like 3D printing,3D modeling, Electrical Engineering, Soldering, Laser cutting and CNC milling.
The Video is from Nader Ki

They built their First Dozen prototype then presented it to people, and the result are pretty amazing with people demanding more of it. So decided to take it to next level and made it pretty good looking and with the ease of operation.The first prototype is built of plastic and metal, but they revised it with two blocks of maple.
More you like to read
Transfer Data between devices without the Internet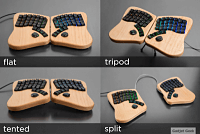 It adjusts to fit your Hands and your desk, and this gives pretty comfortably for the user's to typing, and you can also split it off and can be used as a tripod stand.Most computer keyboards use 4 to 5 types of various key shapes and design, just one for each row.
But this will come with sculpted caps to guide fingers, and the shape and mechanical design will fill it with ease.These key's layout will come in a pattern of your hands.
Macbook Butterfly Keyboard
Pic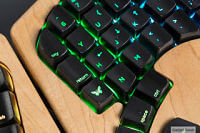 What's next to it also comes with programmable RGB LED beneath each and every key on the keyboard. It's programmable, you should write the code in Arduino IDE and few lines of code and you should make it possible. You can turn Rainbow color light or one for each cap or you can totally turn off it.
Any of you observes our keyboard limits us for just pressing not more than six keys at once and this keyboard modified its software and hardware to make it compatible with N-key roll over without any USB key drivers. Now enjoy typing with this board.
I hope you like this Crazy Post love to share more do share your thought about the article in the Comment down below but Don't Spam
II hope you all like the Article on Macbook Butterfly Keyboard