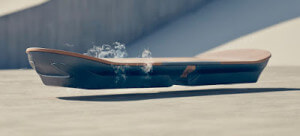 Hover Boards has been an interesting topic from every cine lover, as they have seen many in Hollywood films. Researchers, students, developers many of them are trying to make it possible but their efforts are not up to the mark where they can actually built a perfect Hover Board. Many of them came with prototypes and another type of stuff which involve Large propellers, which looks a bit Heavy and Odd, as it has shades of helicopter and Drone. So a perfect Hover Board is that which looks exactly like a skateboard but it can fly through the air. ( In picture that's the Prototype developed by Lexus).
HOVER BOARD
The hover board is a Child dream ( who is a Ben 10 Fan), may be the dream of many of them, of which they are inspired from movies like Back to the Future part II and III. Hover is actually a skateboard but without wheels and can fly through the air at utmost speed.It doesn't need any wings or propellers.In 1990's they were rumors about Hover Board that they are real, but they didn't allow in the market as they are extremely dangerous. But these are confirmed as rumors.
Hendo , a company which has built a Hover board at a cost of $10,000 and it almost an resemblance of Hover Board but it missed that touch of style that an original board will have and many of them expected.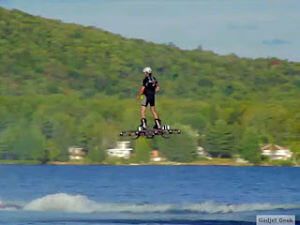 Many of them argue that they are practically impossible to design as a Board which needs to carry a Person must a need a totally different kind of system which the world has never witnessed before, But this man Catalin Alexandru Duru has a set a Guinness World Record by travelling a distance of 275.9 meters at a height up to 5 m over a lake, on an autonomously powered self-construction of his prototype. But it lacks that Stylish bit and also it's bit Heavy and awkward looking prototype which resemble's a Drone, but we should praise his Effort.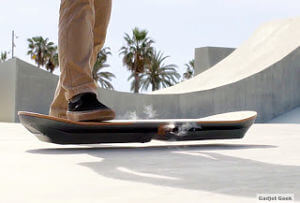 Now coming to this Project Known as SLIDE which is the 4th Project in "Amazing in Motion" series. When you have a first glimpse over this First introduction to this Masterpiece you will be spellbound, you might be over framed to think that it might be a movie. But they promised to show what everyone thought was not achievable.They haven't released any technical spec's or any further, just this like a Teaser to a Movie which is about to release.Am Personally very much Excited about this?
This is the Video where the much-hyped the practically rideable and stylish Hover Board. News about this release and further updates will be in coming months. Stay tuned to this.My Personal feeling about this is its Smoking Hot.