How to uninstall apps on iPhone in Step by Step Process
In case you are an iPhone user, we are sure you have a lot of apps on your phone. There are several apps that tempt you with their features and functionality. So do the games. But, the fact remains that we seldom use some of the apps even once in a month. That is precisely why you need to go through your app collection once in a while. Getting rid of the unwanted apps and games is one of the most needed tasks, yet no one pays much heed to it. How to uninstall apps on iPhone? Let us go through the steps involved in the following paragraphs.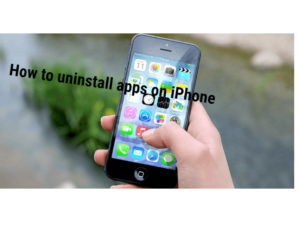 How To Uninstall Apps on iPhone?

Well, there are four ways you can uninstall an app on iPhone. Removing an app would be quite easy if you follow these steps. Removing app if you are no more interested in it can be the best policy to keep your precious memory and data preserved. You can always reinstall the apps in case you need them.
Using Tap and Wiggle Feature
Removing an app from your iPhone could not have been easy. Tap and Wiggle are the simplest methods to uninstall iPhone apps. Here is how you can do it –
Tap and hold on any app that you would want to uninstall.
The app icons will begin to wiggle.
You should now see the X icon on the apps' top right corner.
Tap on the X icon that appears on the app that you would want to uninstall.
Tap on the X icon.
Tap on Delete in the context menu that appears.
That does it! The app will be deleted along with its data. Please note that not all apps will have the X icon on them. Especially, the default apps do not have the X icon and thus cannot be removed.
Through iTunes
iTunes is where you can download your iOS apps from. If you want to delete the apps completely from your Apple ID, removing them from iTunes can be the best option. Here is how you can go about it –
Go to iTunes.
Access your Apps Library.
Choose the app you would want to uninstall.
Click or tap on
Confirm your choice.
Please note that if you have multiple Apple devices, this method may not be suitable for you. If you remove your apps from iTunes, the app will be removed from all your iOS devices. If you do not want to remove the app from all your devices, we would advise you not to use this method.
Through Settings
Settings is a great way to uninstall your apps from your iOS device. You can follow the steps mentioned here to uninstall your iOS apps from your device(s) –
Tap on
Then move on to General -> Storage & iCloud
Locate
Tap Manage Storage.
Check the apps listed herein.
Tap on the name of the app you wish to uninstall and tap on Delete App,
The app will be removed from your iPhone.
Please note again that the default or built in apps on your device will not have the Delete option and thus cannot be deleted.
If you just want to free up some space and do not want to uninstall the app, there is an alternate option you can employ. In such a case, you can only remove apps' data.
Uninstall while updating
Maybe you have hundreds of apps on your iOS device. Looking through your Apps library and uninstalling them one by one may not be an easy task.
iTunes Updates section lists out the new versions of the apps that have been installed on your device. You can do it by following the steps here below –
Whenever an update is available, it shows up in the iTunes Updates
If any of the apps in the list happens to be the one you would want to delete, you can uninstall it from there.
Right click on apps icon.
Now choose Delete From Library.
This will remove the app from your iTunes library.
Please note that this step will remove the app from all your iOS devices.
A few notes in connection with uninstalling iPhone apps
Please note that the apps uninstalled from iTunes library may be removed from all your devices. If you are not sure you do not want to remove them from your library, avoid such options.
If you have accidentally removed a paid app that you have purchased, you need not worry. iTunes keeps a record of all your purchased apps. If you decide later to install the app once again, you can definitely do so without any need to pay again.
Sometimes, you may not find the gain in storage space even after uninstalling an app. This can be a bug which can be taken care of on rebooting your phone. Once you reboot, you should be able to see the correct storage space.
Finally…
Well, those were some of the methods you can use to uninstall apps on your iOS devices. You can choose any of the methods we have featured here. You can use any one of them as depending upon the method you are comfortable with.
Do share your views if you have used any of the methods explained here. If you know of any other similar methods to uninstall an app from your iPhone, we would welcome you to share them with us.
I hope you like the article on How to uninstall apps on iPhone in Step by step process with different technique
More Such Article you may like
How to disable pop blocker on Mac