What is droid turbo marshmallow ?
Droid Turbo is one of the prominent smartphones from Motorola.  In fact, the phone was launched in 2014. Given the fact that Google does not support devices older than two years, Droid Turbo users had been under an impression that they will not receive an update to the latest version. Check What is droid turbo marshmallow ? and updates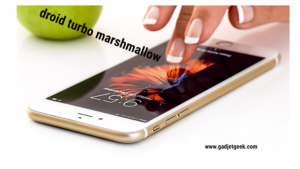 However, a sweet surprise for the users and Droid Turbo has received the update to Android marshmallow 6.0.1! Want to know more details on Marshmallow update for Droid Turbo? Read on to know more.
Marshmallow Update for Droid Turbo Rolls Out – A Surprise!
Well, the Android operating system has gone ahead with the latest update being Android Oreo 8.0. With that background, the arrival of Android Marshmallow on Droid Turbo may not be something much interesting. Even then, it may be heartening to find the device more than two years old receiving an update.
The update is being rolled out in a phased manner since December 2016. By that logic, you might have already received the update if you own a Motorola Droid Turbo. The update has been reported to be rolling out through OTA updates.
Don't you want to update through OTA? There are options to update to Marshmallow 6.0.1 manually. If you want to take the risk associated with a manual update to Android marshmallow 6.0.1. Update Motorola Droid Turbo to Marshmallow
How To Update Droid Turbo Manually To Marshmallow 6.0.1
Before planning to update Droid Turbo to Marshmallow 6.0.1, please note that the update is also available and rolling out in phases. The update size is 1.14 GB. The update offers you new Marshmallow features along with a few bug fixes. The update bumps the version of Droid Turbo from Android Lollipop 5.1 to Android Marshmallow 6.0.1.
The update is rolling in several regions of the world including India.
Before you can update your Droid Turbo manually to the new Marshmallow 6.0.1, here are a few points you need to ensure –
You will need at least 2 GB of space on your Droid Turbo.
Please note that the tutorial presented in this article is only for Droid Turbo. Do not use it on any other device.
Ensure that the battery level is at least 75 percent.
Do take care to backup all your important data before updating your device.
Also, note that your phone needs to have the bootloader unlocked so that you can install the update file manually.
Follow the steps here below to ensure that you do not end up with a bricked device.
Download the Marshmallow

ZIP file

from the sources indicated here below.
Rename the file to

zip

.
Save the file in your phone memory.
Switch off your Motorola Droid Turbo.
Boot your Droid Turbo into Recovery Mode. You can do so by pressing and holding Power and Volume Down
Your Droid Turbo will boot into Stock Recovery.
Choose Apply Update From

SD Card.

Browse to the OTA

ZIP file

you just saved on your phone memory.
Select the ZIP file and tap on
Wait till the process is complete.
Please note that it will take a while to complete the installation and get your phone boot into Android Marshmallow.
A little more Info On Droid Turbo
Motorola Droid Turbo was the Motorola Flagship launched in 2014. It comes with a 5.2 inch Quad HD Super AMOLED display. The resolution reads 1440 x 2560 pixels at a pixel density of whopping 565 PPI. The device was initially launched with Android KitKat. Later on, it received an update to Android Lollipop 5.1.
The device is powered by Qualcomm Snapdragon 805 Quadcore Processor and Adreno 420 GPU. The device has a storage capacity of 32 or 64 GB versions.  You have access to 3 GB RAM. The 21 MP camera on the rear and a 2 MP front snapper.  It offers you a 4K video recording compatibility.
The Update Files
Droid Turbo Marshmallow OTA File
Droid Turbo Marshmallow OTA File Mirror
What's New In Marshmallow Update?
There is no changelog available. It may not be easy to get the details of the updates as of now. You can safely assume that the standard Marshmallow features would be available with the update.
In Conclusion
If you own a Motorola Droid Turbo, you can expect the update to Marshmallow. You might already have received the update. If not, you can check the OTA update. And if you have not yet received the update, you can use the OTA ZIP files listed here. Ensure that you follow all the instructions carefully.
Do share your experiences with us. We would value your feedback.
More Such Information on About
How does the Internet of things Work