DesignEvo Review 2019
Creating Logos is one of the most important tasks you are expected to handle. Logos are what will give your business a face. It can indeed take a lot of time and patience, and money as well. How about a tool that would help you automate the functionality for you? We have a few excellent Logo makers. DesignEvo is one such great piece of software that would help you create great logos with ease.Let Checkout All the Detail with DesignEvo Review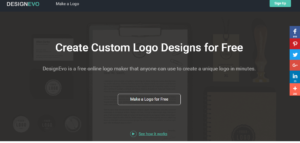 What is DesignEvo?
DesignEvo is one of the most popular logo maker application for you. What makes it an excellent option would be the huge database that it has in the store.
DesigEvo is a completely free logo maker tool and comes with a good deal of vector icons and fonts. The fully customisable database would be something that would not need much of a brainstorming or training. What you would need to apply is just a little bit of effort on your part and create a few excellent logos.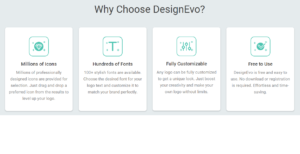 What Constitutes DesignEvo Logo Maker?
Well, if you want your logo maker to be an effective tool to meet your requirements, it should comprise of several tools and options to make your task simple. Let us go through what is contained in the tool.
Shapes
Lots of shapes are what you would get on the service. And you would not be disappointed as long as the list of different shapes and designs are concerned.
You can begin using these shapes directly to create your logos in a few clicks. Badges, Banners, Solid Shapes, Symbols, and Decorations – these are just a few of the representative shapes you should be able to find on DesignEvo. Choose a category and drag and drop the shape you prefer onto the canvas of your logo. If you are not comfortable with the color of the shapes, you can change it as well.
 DesignEvo Review with Fonts and Texts
DesignEvo offers you two styles of fonts to choose from. If you are looking to use the design element or a fashion statement in your logos, you can choose the Art style of fonts. On the other hand, if it is a plain text format that you are referring, you can check out the Classic style of fonts.
In addition to the font and styles, you can also alter the text effects, styles and colors with ease to match your requirements and liking.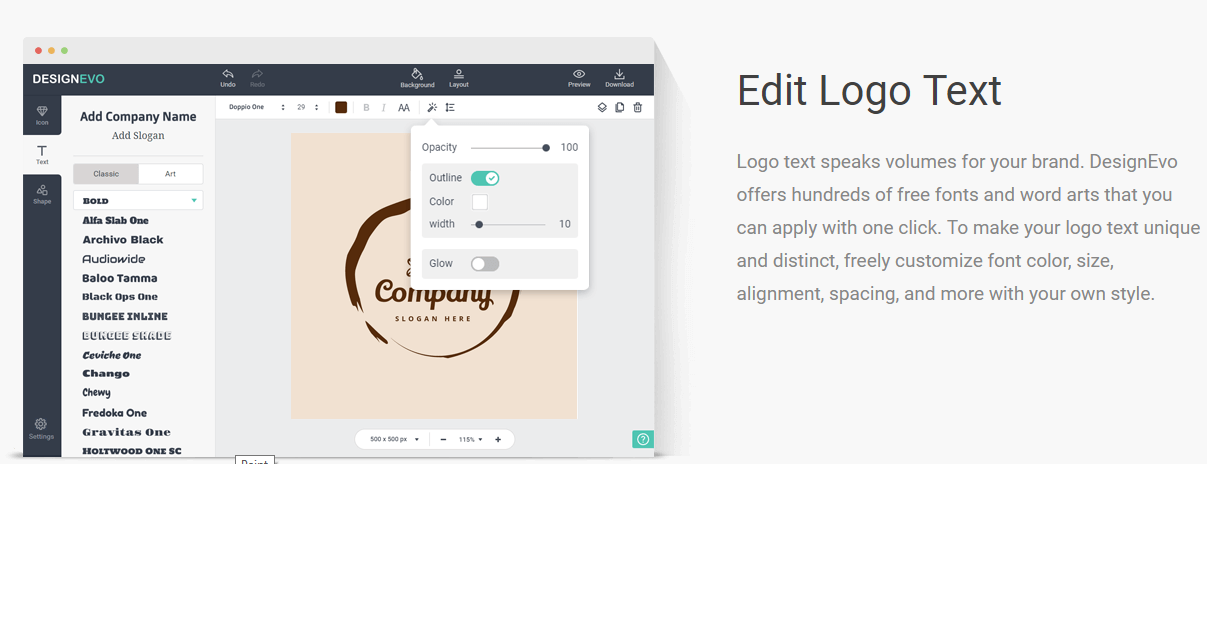 Icons
There are several different icons available online on DesignEvo. In fact, you do not need to know the exact name of the icons to find them. You can practically type anything you can think of and the powerful image search engine should be able to present you a good and impressive list of theme icons.
What Makes DesignEvo a better option?
Well, the features we explained above should be the prime reason for opting for DesignEvo for all your logo making requirements. It also offers you several features that make it quite easy to setup your logos with ease.
DesignEvo offers you best in class layer management. You can arrange and overlap the different looks. Preview the looks before finalizing the same. DesignEvo comes with an advanced alignment system. The centering and aligning the different objects is aided through dotted lines to assist you.
The preview section is something we would treat to be the excellent feature with the DesignEvo Logo maker. You can preview your newly created logo on different backgrounds. Check it out on a t-shirt, on an internet site, or on a mug. This would help you assess the look of the logo virtually before actually finalizing on the same.
Moreover, you also have the option of downloading the logos in different formats. If you want to save on the space requirements – may be JPG is the best format for you. In case the logo is to be used for websites, we would advise you to go for png format. The crux of the matter is the tool offers you download options with several download formats.
In Conclusion
DesignEvo is indeed the best option for creating your best logos in a few steps. Why go for the other professional logo makers for your new logos? DesignEvo is completely free and one of the best logo makers you can ever find.
The online Logo Maker excels with its simplest interface. If you are planning to make some flat logo designs, it is one of the best tools for all your needs in logo making. Have you used the app? If you have, do share your views and opinions with us.
I hope you like the Article on DesignEvo Review a free online Logo Maker
More Such Article you May like as
Libby App Review Along with top 5 feature
What is the Difference between internet intranet and extranet
TOP 5 Myth of Mac book Pro Computer
Have a nice day
Summary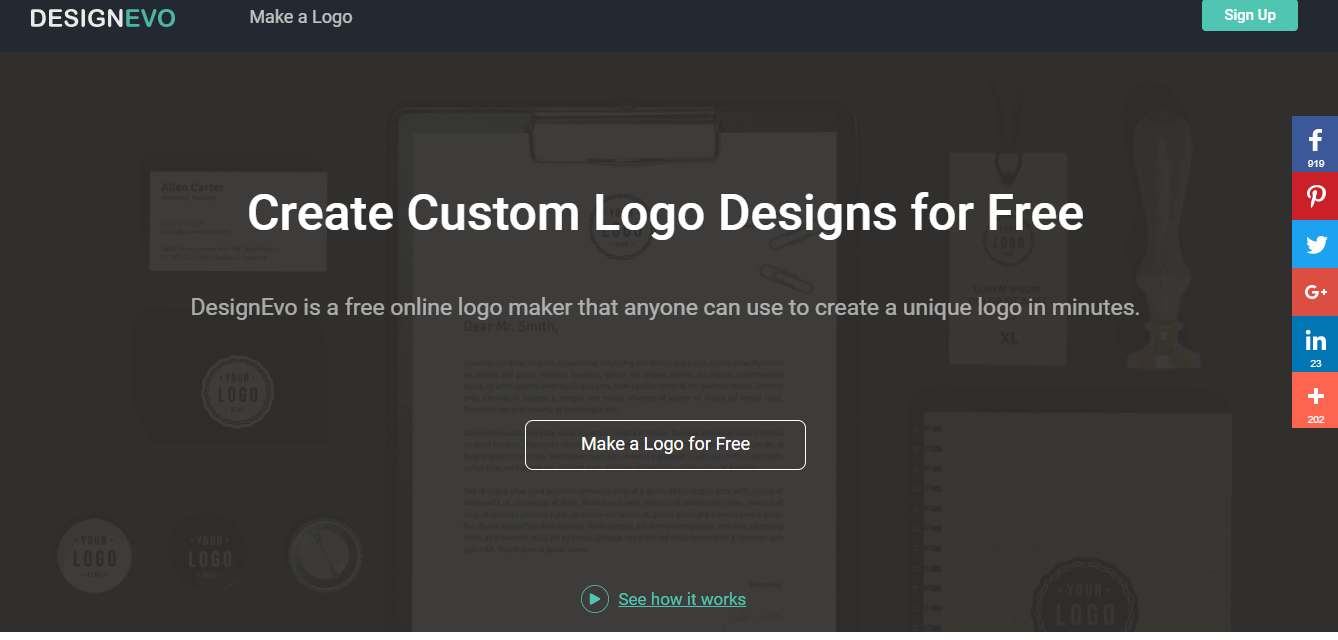 Author Rating





Software Name
Operating System
Software Category
Price