Designimo Review 2019
Branding is an important aspect of a business. No issues if your customers do not know the language, but they would indeed be remembering the signs that your business is associated with. Any business you are in needs you to build a brand. And the first point towards building a brand is through a good name that strikes a connection and a great logo that identifies your business and your brand. When it comes to creating rememberable logos, the best tools that can be helpful for you are the Online free Logo Makers. Check  Designimo Review 2018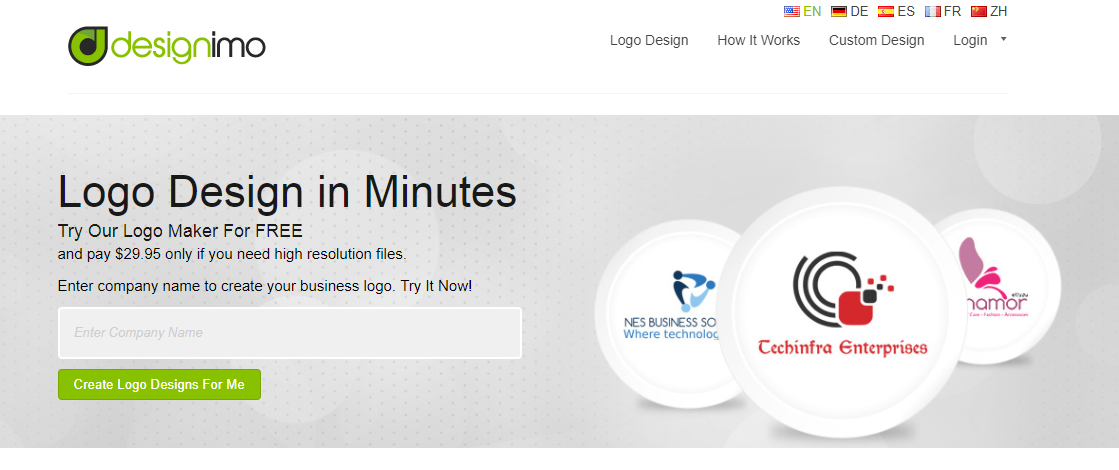 Since a log plays an important aspect if you really want to build your business, we thought of letting you about a capable and trustworthy online logo maker that has been quite reliable in every aspect that it does. Designimo, one of the best online logo maker sites has carved a name for itself, thanks to the expertise that they pour in every one of their creations. Lets us check out the features of the logo maker in a finer detail.
Designimo – The Best Online Logo Maker
If you are a new startup or finding it difficult to create a logo design for your enterprise, Designimo should be quite helpful for you. Finding an expert logo maker may not be an easy task given the lack of service providers and the expensive price tag that most of them carry.
Designimo is indeed the best of both worlds. If you are someone with a constrained budget or just starting off, it can be your perfect partner for the creation of an excellent logo. The freemium model that Designimo works should be one of the features you would not find normally in the logo design arena.
What Makes Designimo a Great Logo Maker Option?
Well, the service comes with its own set of special features. In fact, it was launched with an aim of providing a cost-effective and quicker solution for your requirements in logo design.
Some of the features that would make it a force to reckon with can be summarised as –
Simple Functionality – You do not need any software to download. The Online Logo Maker simplifies the tasks of designing your logo beyond limits. It is as simple as submitting your company name and that should do it. Choose from hundreds of logos presented to you and make your business visible.
High Degree of Customisation – You can choose your favorite logo design from thousands of the designs available on the platform and then customize it to suit your individual requirements. You can customize any part of the logo including font, color, and style. Once you have finished, you can download your high-resolution image after making the payment.
Completely Private and Secure- You need not worry about the information about your business being leaked. Designimo offers you a high degree of privacy protection.
Download Your Designs Whenever You Want – The logo you create will remain on Designimo servers. You can download anytime you would want to.
Apart from the features mentioned here. Designimo also lets you create your custom logo designs through the Do It Yourself logo maker. The logo maker comprises of almost sorts of contemporary designs you are looking for. The DIY logo creator is based on HTML 5 and you can use it to create your logo in any language of your choice. The best part of it is it does not need you install any software or additional tool.
The service quality lives up to the expectation you may have with respect to the logo making requirements.
How Does It Work?

Being an online maker, it offers you the simplest ever interface. There isn't practically any need to install any tool, software or extra software for using the logo maker functionality.
Just visit their official website at the official site . Once you are on the website, enter your brand name and the type of industry that you are in. It would be as simple as that. The automated platform will suggest you the best logo that would meet your exact needs. You can choose the logo that you would think provides a clear indication of the sector you are working on.
Of course, you need to sign up for the Designimo service before you can download the logo you have created. As we already stated, Designimo offers you a freemium model of subscription. You can create any number of low-resolution images for the logo for free and download them. You will be charged only if you are looking for a high-resolution image for your logo.
We would indeed consider Designimo as one of the best when it comes to the comprehensive logo design tool. The easy to use functionality makes it best suited for the newbies and startups. You will have access to a host of logo templates and most of them tend to be quite elegant and unique in their own way.
Should You Go For It?
Well, if you are making a new beginning and into a startup, the time and affordability should matter the most to you. The process involved in creating your logos is quite easy and simple and does not need any kind of expertise.
We would indeed recommend it for the entrepreneurs out there. You just need to have the name of your firm and the color scheme that you would want to go with – rest all is taken care of by Designimo and the powerful logo making engine that it works with.
The Final Verdict
The time and budget are the two huge constraints for a new entrepreneur. Designimo offers you the most affordable services so that you would be able to create your logos in an instant. The user-friendly interface and the ease of creating logos would make it all easy. Today's world is fast-paced and the faster and cost-effective service that Designimo offers you should make it a service with convenience.
No more need to find a professional logo maker and fall prey to their tantrums. Create a logo of your choice easily with Designimo and get the best logo online.