How to Fix Err_Cache_Miss in Google Chrome?
The Internet has become one of the most important aspects of one's life these days. However, there are some error messages that may ruin your browsing experience. Err_Cache_Miss Error is one such issue that may cause your browsing go haywire. Having to experience this error can be frustrating. If you are looking for the ways to fix the Err_Cache_Miss Error on your Chrome browser, we have a few tips that would be helpful in that direction.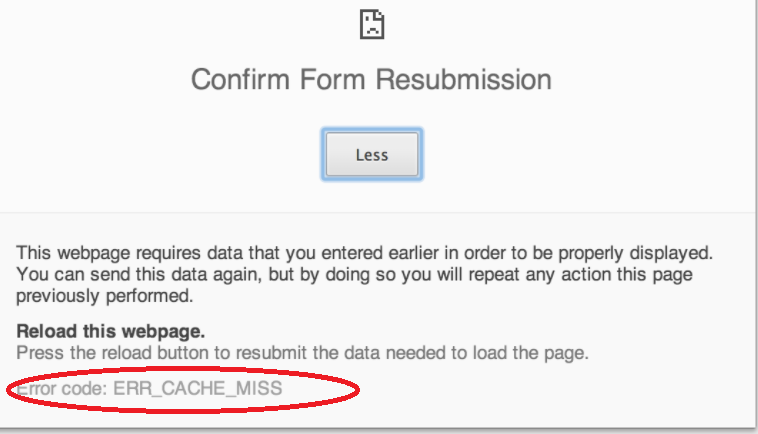 How To Fix Err_Cache_Miss Error in Chrome in Step by Step?
Check out the Video For More Easy  way

Before moving on to check how to fix Err_Cache_Miss error on your Google Chrome browser, it would be a good idea to understand what causes this error. This knowledge will, in fact, give you an idea of addressing the basic causes that bring up this error so that it will not recur once again.
The error may come up when the DevTools have an issue in getting access to cache files. Though it is not of a huge concern, it may affect your browsing experience. Yet another factor that may contribute to the appearance of this issue would be a corrupted extension installed on your Chrome browser. A few browser bugs may also bring up the error message in some cases.
Now that you are aware of what causes the issue, let us move ahead to the fixes available to sort it out.
Fix 1 – Clear Browsing Data and Cache
Corrupt data and cache files can be an issue that may be causing the error. Clearing the browser data can resolve the issue in many cases.
Follow these steps –
Access Chrome settings by clicking on the three dots on top right and then clicking on Settings
Scroll down and click on
Under

Privacy and Security

, click on Clear Browsing Data.
Clear the data by selecting appropriate choices.
Once you have cleared the data and cache, relaunch your browser and check if you are still facing the error.
Fix 2 – Check Your Browser Extensions
Since extensions can be a cause in creating this problem, it would be advisable to check your extensions and rule out any such possibility.
Click on three dots on your Chrome browser to access the Chrome menu.
Hover over More Tools and then click on
You should now get a list of extensions installed with your Chrome.
Check which ones are problematic by disabling and enabling each of them and checking your browser if the error recurs.
Pay attention to the Toolbar extensions and Ad Blockers initially as these are known to be possible reasons for affecting your browser.
Fix 3 – Disable Cache System Completely
This method will need you to access DevTools to completely disable the cache on your browser. Follow these steps to achieve it –
Press Ctrl + Shift + I
Now press F1 key.
Scroll down and locate Disable cache (while DevTools is open) You should find it in the Network section.
Check this to disable Cache.
Once done, you can reload the page that has been giving the error and check if the issue has been resolved.
Fix 4 – Update Your Browser
In fact, this is what you need to consider in the first place while trying to fix Err_Cache_Miss error in your Chrome browser. Keeping your browser updated to the latest version can be a good solution for most of the issues you may be facing on your Chrome installation.
Google Chrome is normally set to update itself on its own in most cases. However, you can check if your browser is up to date by following these steps –
Access Chrome settings as explained in the Fix 1.
Click on the Three Dots at the top left in the Settings
Scroll down and locate About Chrome.
This will let you know whether your browser is up to date. If not, you can choose it to update to the latest version.
Fix 5 -Using Command Prompt
If the issue is related to the internet protocol and is deeprooted, you can use the command prompt method to sort the issue out. Here is how you should be able to do it –
Access Command Prompt by searching for it and accessing the search results.
Enter the following commands one by one and press ENTER.
ipconfig /release
ipconfig /all
ipconfig /flushdns
ipconfig /renew
netsh int ip set dns
netsh winsock reset
Once all these commands have been executed, restart your computer. Now launch Chrome and check the sites that used to give error previously.
Do note that you need to enter the above commands one by one by pressing ENTER on entering each of them.
The Final Thoughts on how to fix err_cache_miss in chrome
Those are a few fixes that should be helpful in resolving the issues you may be facing with respect to cache n your Google Chrome Browser. If you are facing this issue with your browser, you need not panic. It is one of the most common errors that affect your Chrome browser. If you follow the fixes featured above, you should indeed find yourself getting rid of the issues.
If you know of any other methods and fixes that may be helpful in resolving the error, we would welcome you share them with us through the comments section here below. You may also share your experiences with the Err_Cache_Miss error and the reasons that have been instrumental in causing it.
More Such Article you May Like as
How to Get blue Tick on Instagram
How to Make Collage on iPhone

Source of the Information Stackoverflow
Souce Of the Image Github 
Summary
Reviewer
Review Date
Reviewed Item
Author Rating