Free Screen Recorder Software is the useful tool for recording your work on screen.The video is the easiest form of media by which the understanding is quite easy and simpler.Here is the list of Best free Screen Recording Software which will help you to record your screen with ease and which will help you to upload in youtube and Earn money from AdSense.
5 BEST FREE SCREEN RECORDER SOFTWARE
Note: All the Download link for this software are placed at last.scroll down to get them.
1. TinyTake
When you are looking for something free and a quality product, here it is. TinyTake which is a product of MangoApps offers both free and premium plans.Although, for free plans, your options are limited but it will be enough for the basic work to be done.In basic Plan, you will be limited to record only for 5 mins with an access to an online web gallery and only for personal use.
For commercial use, you should buy this product which has the weekly plan and annual plan with different options.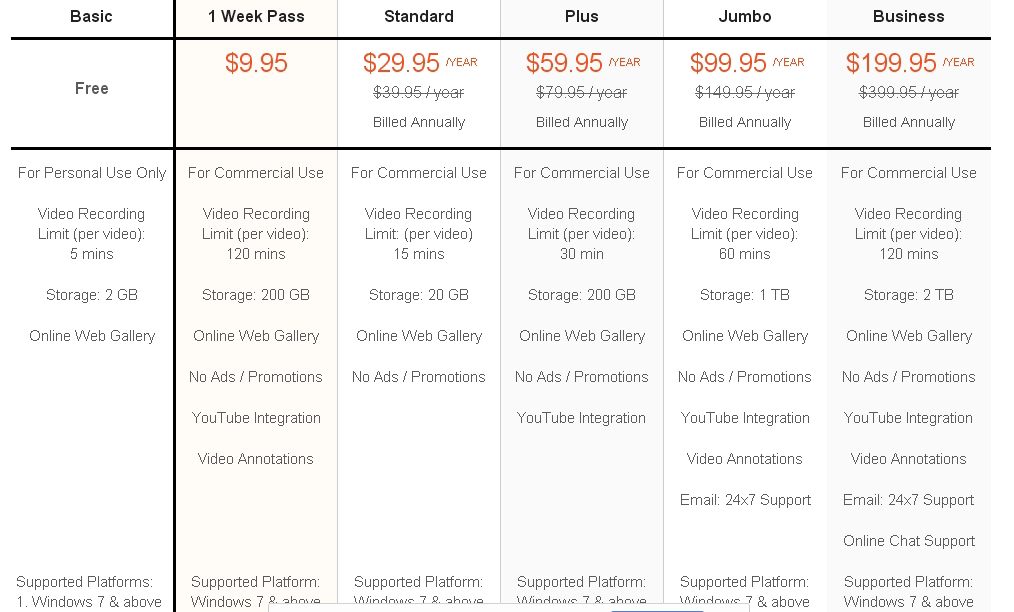 Here are the pricing plans for tiny take and you can look on to more plans & pricing details here.This is available for both Windows and Mac.
Features:
Recording can also be done using Webcam
Can record entire region or specific region on desktop
Open, annotate and share an existing image
Ezvid
Quoted them self as "World's easiest Screen recorder software".With one click screen recording options and capturing the desktop screen made simple with Ezvid.The main feature which sets apart is the screen drawing feature and also with the option of recording HD videos it proves it worth.You can record your screen while browsing ( like watching youtube videos etc ) and also while playing games on the desktop.
Features:
Fast & easy Screen recorder
Option for Voice synthesis
Built in with video editing tools
SEE ALSO:Â Transfer data between devices
Webinaria
Webinaria is also a conventional free Screen recorder software and the part which I like in it, is the option for uploading your video on their site which will bring views and engagement with the audience.Being an open source, it will help you to work with ease.
Features:
Create flash recordings ( AVI to FLV)
Technical support with animated tutorial
Option for hosting videos on their site
Camstudio
CamStudio is an open source free Screen recorder software which can also create industry-standard AVI video files and that too with an easier interface and fast network.You can also add high-quality screen captions and also with video annotation feature.
Features:
Provides with audio enhancing feature
Best quality ones for burning into CD/DVD
With an additional feature of LossLess Codec
Srecorder
Srecorder allows you to take high-quality videos with or without the voice.It is also comprised of all the option of a basic screen recorder has comprised of.You can select the area of recording screen.
Features:
Can record Video and Audio conversations
Selection of area of screen recorder
Here are the Download Links for all the 5 Softwares Quotes above.
[sociallocker]
Download Link for Srecorder Software –>> Â Srecorder Software
Download Link for CamStudio Software — >>Â CamStudio Sofware
Download Link for Webinaria Software– >>Â Webinaria Software
Download Link for Ezvid Software –>>Â Ezvid software
Download Link for Tinytake Software– >>Â Tinytake screen recorder
[/sociallocker]
These are the best free recording Software and now you can create videos on ease and hope this will help you. If you are working with other software's which are paid or free and want to see in this article, you can express in your comments.Like and Share this in Social Networking sites.