Kaspersky internet security vs Total security
Your PC needs protection from malware and virus attacks. Bit, which service would you prefer? There are several big names in the arena of Anti-virus. Kaspersky is one such name that has been quite popular when it comes to an effective protection for your devices. However, even after you have chosen Kaspersky as your favourite virus protection solution – you are in for a shocker. Kaspersky offers you three different options in the genre. Which one among them is best for you? Confused? Do not fret – we are here to help you. hope you like Kaspersky internet security vs Total security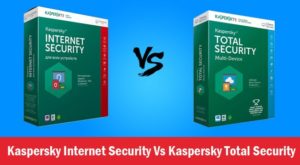 Difference Between Kaspersky Internet Security and Total Security – A Complete Guide
We mentioned it already. Kaspersky offers you protection in three options – Kaspersky Anti-Virus, Kaspersky Internet Security and Total Security. Now that Kaspersky Anti-Virus provides Anti-Virus solution alone we will leave it aside from our discussion. The other two, however, cater to the same sphere of functionality.
How different are Kaspersky Internet Security and Total Security from each other? We will make a comparative study in the following paragraphs.
Protection Level
When it comes to the level of protection available on both the services, you would find that it remains the same on both the services. The malware signature and cures for them is also similar in both cases.
However, there are some specific differences between the two. To begin with, we will compare the features that are common to Kaspersky Internet Security and Kaspersky Total Security. This will give us a clear understanding of what to expect from both these services. Then, we will move on to find what else is included in Total Security that makes it more advanced than Internet Security.
What is Common Between Internet Security and Total Security?
Well, here are the features that would come with either of the versions. Do note that a few of these features are also available Kaspersky Anti-Virus as well.
Optimised protection – Though both these services offer you excellent protection functionality, they are not resource hungry. Most anti-virus solutions are known to hog your resources, and data. Kaspersky is optimised to provide an optimum performance without compromising the functionality.
High end protection – Kaspersky provides you complete malware protection. You can be safe from all major threats that include virus, phishing, adware or spamming. All the products from Kaspersky come with the similar degree of award winning performances.
Simpler Interface – The software is easy to manage and handle. The user friendly user interface is quite simple and does not come with a steep learning curve.
Protection from Privacy threats – Your privacy is completely protected. Both the versions come with stronger online privacy protection and even anti-ransomware protection.
One License On All Devices – A single license can handle all your requirements on all devices. Get Kaspersky protection on one license and protect your Android, Windows and Mac devices simultaneously. These are the features that you would find on both Kaspersky Total Security and Kaspersky Internet Security. Thus these may not form part of your selection process.
What Extra Features Do We Find On Kaspersky Total Security?
If you are confused between Kaspersky Internet Security and Total Security, this is what you need to pay attention to. Check out the features and make a prompt decision.
Safe Kids – This is an excellent feature that would make Kaspersky Total Security a total solution in the exact sense of the word. You would be able to protect your kids from all the other evil effects of the digital evolution. The feature will help you optimise the internet usage so that your kids will only get the best from the internet.
File Protection – This is the feature is what should work best for almost all users. All your digital data is secured and safeguarded. The encryption feature on Total Security solution would protect your files from being compromised.
Mobile Passwords – If you are using an Android system, this is the feature that should work wonderful for your requirements. The feature adds innovative features to managing your information and their effective usage.
Apart from that, you will get a few features that are equally interesting and valuable. File Shredder, End to end encryption, and Automatic backup are couple of features you would love to have included in your plan.
Pricing Difference Between Internet Security and Total Security
In fact, the pricing can be a deciding factor while choosing between Kaspersky Internet Security and Total Security.
Kaspersky Total Security is available at $ 49.99. This price is for 5 devices for one year. If you are going for 10 devices with a single account, you can get a price of $ 74.99. Please note that this price is only for new customers as introductory price. Renewal charges would be different.
Kaspersky Internet Security is priced at $ 39.99. This is the price for 3 devices for one year. For 5 devices, the equivalent pricing would be $ 44.99.
As you can see the pricing difference is just $ 10 between the Total Security and Internet Security options. This incremental $ 10 is quite well justified, given the fact that you are additional features. Moreover, you are also getting protection for five devices on the Total Security option as compared to three on the Internet Security plan.
What should be My Choice Then?
Well, you have gone through the key differences and the common factors between the Kaspersky Total Security and Internet Security. As you might have observed, there is not much of a difference as long as the features are concerned. However, for just a difference of $ 10, you are getting a few additional perks.
We would definitely vote for Kaspersky Total Security given the excellent performance and features. However, the final decision would rest with you. Analyse what your requirements are and choose the one that best suits you. We have presented the key features that each of these options have. Check them out and take a final call.
I hope you like the Article  on Kaspersky internet security vs Total security
More Such Article you May like
Ways Computer Fixperts Tested the  Mac Antivirus
Avg free antivirus for android tablet
ipage Credit antivirusinsider.com