10 Best Applocker free Download
Apps for Android with Pin, Pattern and Finger Print Password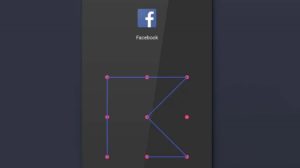 Applocker apps provide you with an additional layer of security when it comes to the privacy. You can set them up to reduce the risk of anybody from peeping into your personal accounts, gallery and even provides additional safety to the banking apps. When amalgamated with the phone screen lock using a password, passcode or even PIN it can do wonders in saving you from getting your information leaked. There are a lot of Applocker apps available on the Google Play Store, but only a few can do the job at their best. Let's quickly jump to our list of 10 Best Applocker Apps for Android with Pin, Pattern and Finger Print Password.
Applock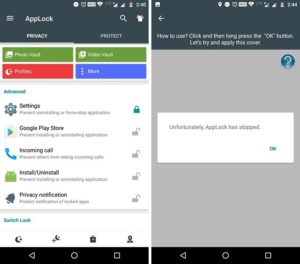 Developed by DoMobile, Applock is one of the popular and most used Applocker apps for Android device. The idea is pretty neat; you get to choose the apps you want to lock and set a passcode, PIN, password string or even your fingerprint so that you can unlock them later. You can also, lock the settings app so that nobody except you can change important settings on your phone. The premium version unlocks some features like additional themes etc. whereas the free version is ad supported.
Applock – Fingerprint unlock
Developed by Cheetah Mobile, this Applocker does what it says. It simply uses the set fingerprint to unlock the locked apps. There are no additional nonsense features included which are good. That means those irritating additional features like antivirus, and unnecessary boosters are not included, that Cheetah Mobile often puts with its apps. The UI is clean, although the lock can be bypassed if given enough time.
Download App Lock : Fingerprint unlock
App Locker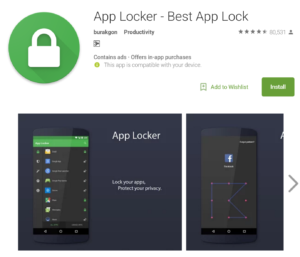 App locker gives you the functionality to lock your apps using fingerprint scanner and pattern locks. Covers the basic agenda of locking the apps and keeping the settings safe. Also, UI is based on the Material Design which is a good thing, as it blends with the UI of your Android device. The app might not work on Huawei and Xiaomi devices; you must know that and look for an alternative if you are a Xiaomi or Huawei user.
App Lock: Fingerprint Password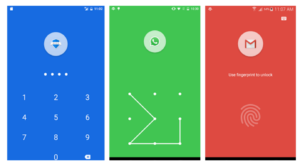 App Lock is another Applocker app that lets you set a passcode, PIN and even your fingerprint for unlocking the apps. The app supports over ten languages; you can set new apps to get enrolled in the list of 'locked apps' after they are downloaded, automatically. The app comes with no initial payments, but for getting all the pro features unlocked to make sure to pay the price of $0.99.
Download App Lock: Fingerprint Password
Norton App Lock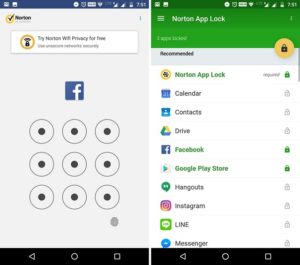 When it comes to the security of any device in the modern day of this world, Norton is the name we rely upon. Norton is known for its security solutions for PC's, Mac's and even smartphones. The app lock made by Norton is simple yet intuitive. You can also set photos that can be locked so nobody else can peep into your personal life. It also takes a picture of any intruders, also. The app is available for free to download.
Perfect App Lock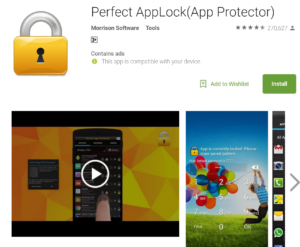 The 'Perfect app lock' apart from having all the basic features that any other Applocker, have this ability to show fake error messages if somebody tries to enter the wrong PIN, password or 4-digit passcode. This tricks other people into thinking that there might be some issue(s) with your phone. The paid version gets you rid of the ads.
Smart AppLock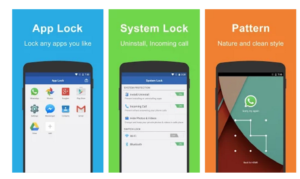 Smart AppLock is yet another Applocker app on our list that manages to get the attention because of the fake screen lock that let others think that they've bounced back from the home screen. It locks all the apps, even the settings app, toggles and the phone app too. The only downside of the app is that it is very easy to be uninstalled once someone figures out that is has been installed on the device.
Hexlock App Lock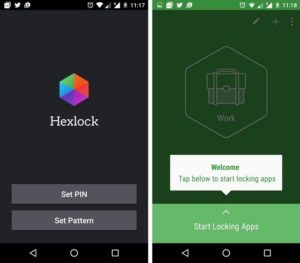 Hexlock has gained a lot of popularity after it has been released. With all the basic features of a normal Applocker app, Hexlock also gives you the Vault option where you can hide your important documents, images and video files. It also lets you choose from the profiles based on the Wi-Fi network you are connected to.
FingerSecurity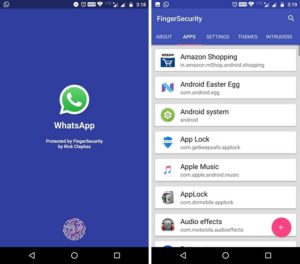 Ability to set safe locations, detect the intruders and set up fake crashes, are one too many features of the FingerSecurity app. Apart from the general app locking features the app also have the ability of delayed relocking the apps and you can set the timeout interval for that.
MaxLock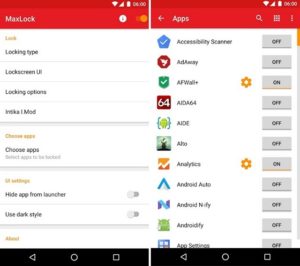 Last but not the least, MaxLock is for the rooted Android device users. The app is based on the Xposed Framework so your rooted Android device must be installed on that framework. Totally ad-free and comes with no hidden charges. Fake crashes, customizations and a MasterSwitch mode to disable and enable the lock immediately are some of the additional features you get with the app.
Final Words
These were our favourites; please let us know about your go to Applocker app.To know more about Android apps, Visit Nox app Player now.Share your views regarding, 'how safe are these app locking apps'?
I hope you like the Article on Applocker free download 
You may Also Like