What is Clean Master?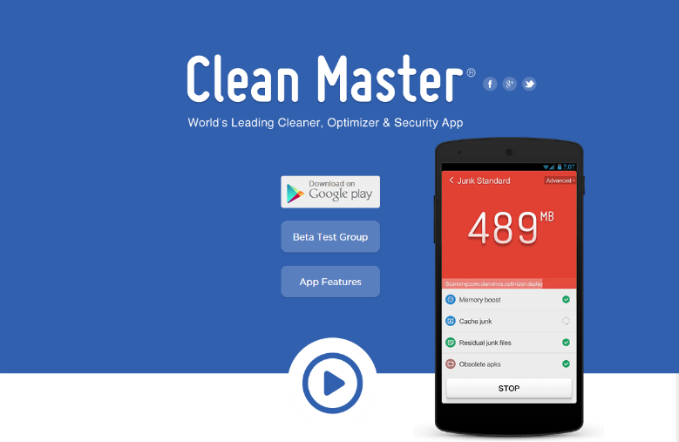 Clean Master is an Android utility app developed by Cheetah Mobile that claims to give you a faster device by clearing up the cache and RAM of your smartphone. It ranks as the 5th most popular app after Facebook, Instagram, Messenger, and WhatsApp. It has over 500 million downloads on play store and is rated 4.7 by the users.
Why install Clean Master?
Clean master promises to give you a faster, snappier and a more responsive device. However, this feature is only one of the many utilities this app has to offer. Besides giving you a faster device, the app also includes:
Junk Cleaner
Antivirus Functionality
Photo Vault
Applock
CPU Cooling
How to install Clean Master?
It is pretty easy to install clean master on your Android/iOS device. Steps include:
Click on the "Play Store"/ "App Store" icon.
Search "Clean Master " in the search bar.
Click on install.
Allow the permissions and you are good to go
How does Clean Master really work?
Cheetah Mobile promises you a faster and more efficient device with just an app. Ever wondered how are they able to achieve it?
Well, let's get into the app and see how it functions.
1. Phone Booster
The phone booster utility of the Clean Master app clears all the apps that are running currently. Besides, it also claims to clear the cache memory in order to ensure that your device remains speedy.
2. Junk Cleaner
The junk cleaner helps to clean all the unused apps and the data which we seldom use or in some cases, we never use. The data consumes our RAM and storage and sometimes it is a mess to clean it manually.
3. Antivirus Functionality
Antivirus functionality in the clean master app scans all the data and apps on your smartphone to look presence of any malicious content. This functionality, however, cannot be accessed by the Clean Master app directly. You need to install CM Security app for this add-on.
4. Photo Vault
Photo Vault is a "safe" for your photos. Only you can access them by entering a password. So, your personal stuff is safe from intruders. This functionality is offered by the CM Security Vault app.
5. AppLock
Lock your apps and data with your fingerprint or password and keep your stuff safe. To avail this functionality, you need to download Applock by Cheetah Mobile.
6. CPU cooling
CPU cooling is ensured by keeping the RAM free so as to ease the stress on the CPU and the GPU.
Does Clean Master really work?
Considering the Clean Master app with the add-ons, yes it works fine for the most part. It is a simpler way to free up occupied RAM and memory with just a tap. In addition to this, it also offers antivirus functionality and app lock as well which is always welcome. But does it really work as promised?
The Truth
David Wu, The Chairman of Leopard Mobile, says that if their app was not working as it should, there would not have been so many downloads. But I got something else to say. According to m, these apps were helpful when the Android was not capable of managing the processes properly. Yes, it is true he app performs what it promises but it costs you RAM to free up your RAM. Accepting the fact that it clears and manages the RAM and cache memory, we cannot ignore the fact that it does not require any RAM for running its own processes. As we all know that this app works and detects in real time, it occupies a part of RAM permanently.
Also, according to Cheetah Mobile, the background processes that we kill manually restart on their own. This is done to ensure the speed of the device. A portion of the program is never removed from the memory so that the program can load back quickly else it takes a longer time to load the program completely on the main memory again
Do we really need Clean Master app?
No matter how much they praise their product, boast about the millions of downloads or talk about the 4.7 rating on google play, today's reality is that apps like Clean Master are not required to be installed on the devices. Now, your Android is smart enough to manage the processes properly without any hassles. Devices below android 5.0 usually suffered from RAM management issues but the latest devices don't. Clearing RAM and cache is usually not required now considering the basic smartphone today comes with a 2GB of RAM. Also, the processors work at a higher clock speed and are built more power efficient than the earlier ones. So even if you use apps like these, you won't notice much of a difference. Installing the Clean Master app on a smartphone today is just waste of storage and memory.
There are tons of other cleaning apps that perform much better like sd maid pro and some more. When it comes to security, the "Play Protect" on google play store scans every app before even installing it. Speaking about antivirus, Android runs in Linux based kernel which is secure enough to handle viruses on its own. Unless you install an infected app, the virus cannot enter into your system. Even downloading an infected app won't affect your system.
Next up is app lock, most smartphone brands offer inbuilt app lock services for the users so there is no need of downloading any extra app for that.
Talking about functionality, we can see that the Clean Master app does not offer all the functionality in one single app. We need to install multiple apps to enjoy all the features of the app. This means that for freeing up suppose 500mb of space, we first need to download the apps that may nearly take 300-400 MB of space. Also, to free up a gig of RAM, we sacrifice 500 MB extra to Clean Master.
Final Words
Concluding my words, Clean Master app works as it promises but surely it isn't an app that every modern smartphone needs. Thus, it is not on my list of recommended apps. Just in case you have too much free space and wish to try the app out, you are always welcome. Thank you.