AOMEI Backupper v4.5.1 is Coming for Protecting Your OS Data
 AOMEI Technology has released the newly upgraded AOMEI Backupper 4.5.1. It's designed to be compatible with all recent Microsoft Windows versions, from Windows XP to Windows 10. The new version is a complete software package to backup, clone, sync and recovers data in the easiest and fastest way. AOMEI free backup software offers simple and innovative features to ensure the safety of your system and data and you are comfortable to use it free on computers in the home and business environments.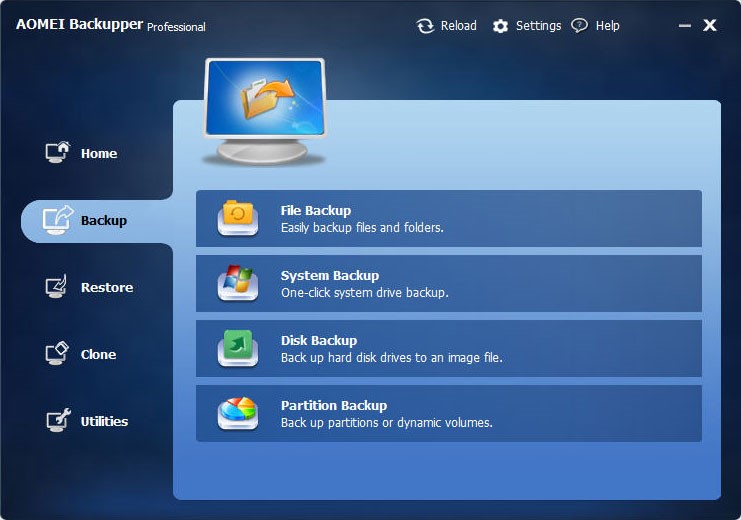 The 4.5.1 version is available to be controlled by the brand-new centralized backup management tool that enables you to create and manage backup tasks for all client computers in the network from one central management computer- AOMEI Centralized Backupper (ACB). It's the first time to combine single backup and restore solution with multiple computers in the network from one central management console.
The other breakthrough feature supported by AOMEI Backupper is that users could select a cloud drive as the target path while doing file backup and file sync, which provides a comprehensive solution from traditional backup to Clouds. Dropbox, Google Drive, OneDrive, Box, SugarSync, hubiC and Cloudme are the first seven cloud drives are supported in the 4.0 version.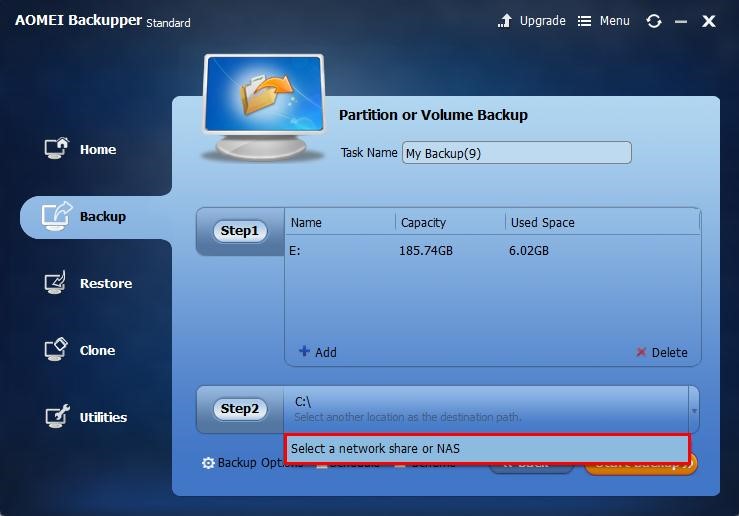 Besides the Standard edition, the 4.5.1 version has improved the whole enhancement and fixed several bugs in the before version. It improved the email notification message of failed tasks, the email notification SSL as well as the registration step when upgrading the Standard Edition. It also fixed the following bugs, including Linux partitions, display as empty, the file attributes (read/hide) changed after being restored and the source partitions are incorrect when running a scheduled partition backup task.
Above those, AOMEI Backupper provides the following features:
You can backup system and build a system image to keep your Windows and system applications safe.
You can backup the entire hard disk (HDD), SSD or specified partitions of a disk.
You can schedule your backup or synchronize.
It provides automatic backup and incremental/differential backups to save your time and storage.
You can clone an HDD to another HDD for disk upgrade, or for better performance you can clone an HDD to SSD.
Backup – AOMEI Backupper Standard provides the features of System Backup, Disk Backup, Partition/Volume Backup, File/Folder Backup, and Sync. By following simple steps, you can easily secure your important data.
Restore – When your system crashes or disk flops, create a Windows PE bootable CD/DVD or USB using Create Bootable Media utility to start up the computer and then perform system image recovery.
Clone – You can clone your Disk, System or Partition to another disk or partition. AOMEI Backupper provides this feature so that you can clone your Disk to another Disk for high performance, such as HDD to SSD.
File Sync – File synchronization (sync) is a procedure of duplicating the files to other locations to keep those two or more having the same data. AOMEI Backupper provides an interactive interface for users to easily choose files which are to be synchronized saving them to continuously copy paste files from one location to another.
View Logs: It saves your backup records so you can view them.
Explore Image: You can mount an image to a virtual partition for browsing files via My Computer.
AOMEI Backupper is an all-in-one software combining backup, sync, restore and clone. The free edition is enough to use for most users and why not back up your data with it today?