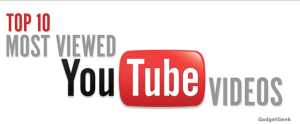 Let's get this Top 10 Most viewed YouTube videos in YouTube History according to until July 2015 and is the Top is the most important thing for celebrities. Top 10 Most Viewed You Tube videos will focus more on the popularity and the number of views which it registered.
10. EMINEM – LOVE THE WAY YOU LIE FT. RIHANNA
This Music video by Eminem featuring Rihanna is in the Tenth position of our Top 10 Most viewed You tube videos list,this become lover's favorite and also the video featuring Megan Fox, which contains some scenes which are an added asset to this video and with soulful singing by Rihanna and also Rapping by Eminem made this popular. This was uploaded on 5 August 2010 and with 891,926,615 views with 2.5 million likes, this was all time best my Eminem when considering views in mind.
9. LMFAO – PARTY ROCK ANTHEM FT. Â LAUREN BENNETT, GOON ROCK
 
 Music video by LMFAO performing Party Rock anthem featuring Lauren Bennett and Goon Rock. This has been uploaded on 8 March 2011 and with 901,202,392 views and with 2.8 million likes, with party song and with DJ kind of music this has made its way through.
8. TAYLOR SWIFT – SHAKE IT OFFÂ 
Taylor Swift enters the competition with her Shake it off with over 922,105,825 views and 3.4 million likes. With good Dance moves and also with great music, this has been the favorite. This has been uploaded on 18 August 2014.
 7. MEGHAN TRAINOR – ALL ABOUT THAT BASS
                                     
Meghan Trainor titled All About That Bass which has over 922,328,574 views and with 3.5 million likes which were uploaded on 11 June 2014 and with the video containing all about the girlish stuff, this video also expected to cross billion marks.
6. ENRIQUE IGLESIAS – Â BAILANDO FT. DESCEMER BUENO, GENTE DE ZONAÂ 
Enrique Iglesias- Bailando featuring Descemer Bueno and Gente DE Zona which was uploaded on 11 April 2014 and with over a  951,054,838 views and with 2.4 million likes being Español, with catchy music this has made it way over 950 million and now marching towards billion views. Hope it does that.
5. KATY PERRY – ROARÂ 
Katy Perry with her album Roar is on the list with 987,359,866 views and over 3.4 million likes, this was uploaded on 5 September 2013. This video contains the Nature effect with Jungle which suits the concept of a song well.
 
4. TAYLOR SWIFT – BLANK SPACEÂ 
 
Here comes another Taylor Swift special Blank space which crossed a Billion views with  1,008,518,544 views and with 4 million likes, this video uploaded on 10 November 2014.
3. KATY PERRY – DARK HORSE FT. JUICY J
 
Another Katy Perry special which came after a six months gap of Roar but this crossed Billion mark with over 1,022,323,249 views and 3.1 million likes and this video was uploaded on 20 February 2014.
2. JUSTIN BIEBER – BABY FT. LUDACRIS
 
And here comes the Heartbreak of over 1,187,564,291 views and 3.1 million likes Justin Bieber made the list and this was uploaded on 19 February 2010.
1. PSY – GANGNAM STYLEÂ 
 
As expected the top one from Top 10 Most viewed You Tube videos belongs to Gangnam Style which took the world by a storm and has made YouTube change its 16-bit encryption to 32 bit. With over a 2,371,961,535 views which are almost double, the views of second spot and over 9 million like this have been a favorite for all with crazy dance style and a catchy bit made it popular. This was uploaded on 15 July 2012.
If youtube is blocked in your country then use
Youtube unblocker
to unblock youtube videos
 
For any queries about anything, you can contact us or raise it in Queries and also subscribe to us by email.
I hope you  like the Article on TOP 10 MOST VIEWED YOU TUBE VIDEOS 2017 
More Such you may like As