Intro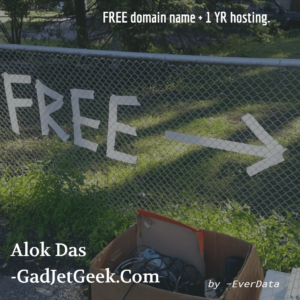 Giveaway the word itself attracts everybody.
TODAY I have a very special post for all my special readers
I am giving out real domain name and hosting all free for few of my lucky readers.
Do participate in this simple giveaway.
What is the giveaway about?
Do note about our sponsors for this giveaway
The giveaway is been sponsored by everdata.  
And do note that one person can get only one domain and hosting as per as the rule.
Moreover, five lucky winners, who can enjoy this giveaway.
I hope you get it!
Am I Unlucky?
Now let me be clear, you need to try out your luck and one cannot predict the future, we do not "what is next?" that is always a question mark and that would always be a question mark.
We might be the lucky one out of all the participants and get this opportunity to avail free domain and hosting for creating a site!
In addition, I would guide you throughout this journey, as I am a digital marketing expert.
Even if you do not win the giveaway do not worry there are other giveaways coming soon.
How to participate in giveaway?
Note -the above Giveaway is for India Only