What is blockchain technology in banking?
Blockchain has been one of the most talked about technology in the banking industry. One of the major concerns that banking industry has been going through is the operative costs and other requirements. Blockchain technology is envisaged to solving the concerns to the most extent. How will Blockchain technology help the banking sector in making it a viable option? Let us find out in the following paragraphs. 
Blockchain Technology – An Overview
We have heard of Bitcoin. It is a digital currency that works independent of the central bank and thus runs its own economy. What makes it possible is the technology referred to as Blockchain Technology.
There can be different types of blockchains – Public or private. These can be used to send and receive the value to anybody, anywhere as long as the blockchain files can be accessed. Each of these blockchains can be considered to be an online database. These databases are stored in a distributed peer to peer manner.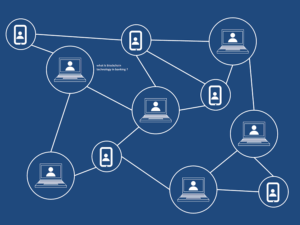 How can Blockchain technology help you in Banking Industry?
Well, there are several areas where Blockchain technology can be helpful in addressing a few woes that the banking industry currently faces. In fact, it can completely transform the banking industry by leaps and bounds.
Let us go through key areas that blockchain technology can have a helping hand for the banking industry.
Know Your Customer
Banks and financial institutes spend a considerable amount of money on Know Your Customer or KYC implementation. The norms have been set to avoid the terrorist activities and money laundering by making banks strictly follow the activities to identify and verify their clients.
Blockchain technology can allow the KYC details obtained by one bank to be accessed by another bank. Thus there would be no need for each of the banks to conduct the KYC procedure. Once done with a particular bank, the details can be accessible to other banks as well. This would reduce the costs incurred in the administrative department to a considerable extent.
Clearing and Settlement
This is an area that banks spend a good amount of money. Keeping the records of loans and other securities costs banks billions with the current kind set up. Blockchain technology, if employed, can work towards reducing this cost as well.
Blockchain technology can be helpful in reducing the delays and discrepancies by improving the efficiency of the clearing and settlement areas. The tasks are currently managed using a series of messages and manual updates. Blockchain technology can replace it and do away the need for manual updates, thus increasing the efficiency in the system.
Payments
Payments are an area that can see a high degree of transformation with the Blockchain technology. There would be the considerable reduction in the operational costs.
The blockchain concept can bring a new faster performance in the payments functionality of a bank. In fact, it will also introduce the higher degree of security in the payments – whether to the clients or between the banks. In comparison to Blockchain technology, the current system has a considerable number of intermediaries involved. Reduction in them through Blockchain would go a long way in making the transactions more secure.
Reduction in frauds
Well, this should be an important aspect that should favor the use of blockchain technology in the banking sector. This will do away the intermediaries and that alone can go a long way in reducing the possibility of frauds.
With the current system, banks work on a centralized database model. This can be quite vulnerable to cyber-attacks or another kind of hacking. The centralized database system has only one access point. If the hacker gets access to it, the whole database would be accessible to them. Blockchain, on the other hand, has a distributed model wherein it is made of blocks and each block has a timestamp. This can go a long way in eliminating a majority of crimes being reported in the financial sector.
Trading
Trading has been dependent on paper for the most part of the world. There have been demands for digitization or modernization of the concept. Blockchain technology can indeed be helpful in that direction.
Trade financing is an important arena that can benefit with the Blockchain technology to a greater extent. However, trading is an area that involves a lot of parties including the traders, ports, shippers and the customs. Introducing the digitalization in each of these entities is bound to take time, but still – Blockchain has a lot of potential in being able to achieve the digitization, and thereby enhancing the efficiency of the system. However, this is an area that would take a couple of areas to be completed.
Are there any Issues in Implementing Blockchain technology in banking?
Well, Blockchain is indeed a newer technology. Though it does come with a lot of possibilities of streamlining banking sector, there are a few issues we need to overcome a complete implementation.
There are several laws that govern your privacy. Blockchain technology being used in banking sector needs to have complete compliance with these regulatory guidelines. Only then can we be assured of the safety of the data being circulated through blockchain.
Then, with banking sector being one of the huge ecosystems globally, the blockchain technology you use should be capable of handling a huge amount of data. With hundreds of banking and financial institutes around the world, scalability can be a huge issue that needs to be addressed.
In Conclusion
Blockchain technology is bound to offer a huge functionality in terms of the banking sector and its functions. However, to be successful in this venture, banks need to build an infrastructure based on the technology. That has left many of them still in the early stages of development.
In any case, the blockchain technology does have a promising future ahead. Apart from helping the banks reduce their operational costs, the technology can also be helpful in letting them launch new products and services so that they can concentrate on more revenue generation. It is just a question of adopting the technology and let us look forward to a great future.
I hope you like the Article on What is blockchain technology in banking?
More Such Amazing Article you May like as
Xamarin Vs Cordova  Mobile App Development
Xamarin Vs Reactive CrossPlatform App Development