Sink to receive asynchronous callbacks for wmi client application
Are you facing the unsecapp.exe as a process running on your computer? The process runs on your Task Manager. This has a description that reads – Sink to receive asynchronous callbacks for WMI client. What exactly does this process signify and what does it do? Let us check out what exactly does this process signify and whether it is safe to have this process running in the background in the following paragraphs.
Unsecapp.exe – What It is?
Well, unsecapp.exe is simply a part of part of the Windows Management Instrumentation (WMI) subsystem. The programs that use WMI programming will need to have access to this file.
The file is available under Windows 7, 8, 8.1 and 10. You need not worry if it appears on your Task Manager. In fact, it is one of the essential parts of the Windows ecosystem if you are running the programs based on WMI.
Though it does not affect your Windows operating system in any way under normal circumstances, it may cause a few errors in some extreme cases. As a matter of fact, we would not recommend removing or disabling this process as it may be required for few programs you may install in future.
Microsoft, on its part, provides the following description –
"The Unsecapp.exe application is used in the communication of two computers and this program starts automatically in Windows vista.
The Unsecapp.exe application is used to send results back to a client in a process that may not have permissions to be a DCOM service. Both scripting and the Microsoft .NET System Management namespace rely on the Unsecapp.exe application to receive the results of asynchronous operations."
So, is it safe?
Yes, by all standards. The genuine Unsecapp.exe file is very much part of your Windows OS and is definitely a safe from the conventional point of view.
But, even then – there are a few writers of malware programs that camouflage their virus and malware files by giving it the same name as Unsecapp.exe. This is done to avoid detection by anti-virus programs.
Checking the location of the file and the file size may help you find if the file is genuine. If you find the file located in the C:\Program files and a size of around 86000+ or 16000+ bytes, it could most possibly be a virus. Please note that this file is not part of the Windows core system. It can manipulate other files and can be quite dangerous. On the other hand, if you find the file under C:\Windows , and the size reads 47000+ bytes, you can be sure that it is a genuine Microsoft file. Though not part of Windows core file system, it would not cause any harm to your computer.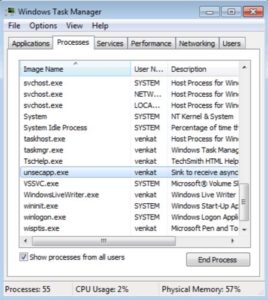 Picture Credit https://www.howtoseeks.org/
Can You Disable the File?
Well, not exactly. It is a part of the Windows operating system and as such is quite a legitimate file. The process has a description that says, Sink to receive asynchronous callbacks for WMI client.
As is evident from the process name itself should be an indication, the file is required for the files that run using the WMI programming or WMI client. You may have several programs that may be running on WMI. Even a few applications that you are likely to install in the days may require the WMI component. You never know, and as such it would be advisable not to disable this process.
If you are using Avast Anti-virus application, we would be happy to let you know that it invariably uses the unsecapp.exe file for its functionality. We are not sure ( and Avast does not tell us) what exactly is the purpose that this file is used for. Even if you do not have Avast installed on your system, you may be running any other program or application that may be using the file.
That is precisely why we would not advise you disabling the file. As long as you are sure it is not a malware, you can leave it and it will not be harmful in whatsoever way.
How To Check If it is a Malware?
Well, the file – if a camouflaged virus or malware file, even then it will have the same process described as the original file – Sink to receive asynchronous callbacks for WMI client. From that perspective, it may not be easy to check if the file is genuine or not.
You may check out the steps we featured above to ascertain the genuineness of the program. You may attempt the detection of the file as to whether it is a virus or genuine file with the help of your regular Anti-virus solutions. You can try Malwarebytes for finding if you are infected with any such virus.
The Final Countdown
Well, that should have offered you enough of the information on the process labelled Sink to receive asynchronous callbacks for WMI client or if you want us to use the technical term, Unsecapp.exe. If you have a genuine Microsoft instance of this file on your PC, you need not worry as it is one of the best in terms of genuineness.
If, however, you find the file to be of non Microsoft origin – that you can find out through any of the above detection methods, it would be advisable to get rid of it. Check it out and be safe…!
I hope you like the Aritcle on Sink to receive asynchronous callbacks for wmi client application
More Such Amazing technology Information are as
Top Best Free Online Movie Websites
What is Droid turbo, Marshmallow updates
Best Foosball App For Android and Apple