Hi all, in this article we gonna look at a cute and smart Indoor Surveillance Owl which will serve your purpose of indoor security, spying on someone, having an eye on your Baby kids, capturing pictures, videos and many more which will provide by this super cool gadget.Many of them worry about leaving kids in their cradle and go to another room for some work, so here you can use this Owl as a pet and have an eye on your kids.This intelligent owl which will make you feels similar to that of having their senses.Let's go in this gadget and technology behind it which will later be your friend in Indoor surveillance.
ULO- CUTE INDOOR SURVEILLANCE OWL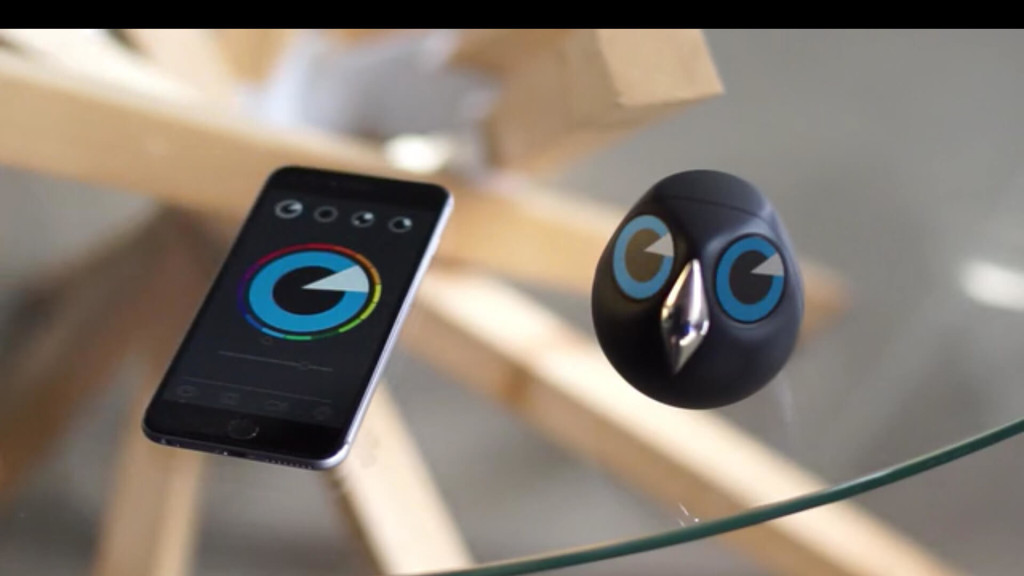 Ulo is an Owl which will interact with you through eyes. The two eyes of the Owl will serve you like a shutter to capture pictures, videos or to alert you when any movement is found inside the house. The ball-like structure in above picture is nothing but our Owl and as you can see the Peck consists of the mirror and the two eyes which are customizable are the aperture by which the whole works goes on.
Owl eyes are customizable ( like color, the structure inside the ball structure and the blink duration )
Eyes will move according to the motion of an object in front of it and it will blink like a regular human eye blink.
It's magnetic and all you have to do is mount it to a metal base, which will hook onto the wall or to your required place.
It will be operated by Mobile App in our smartphone and the pictures and live video streaming will be viewed straightly from our mobile.
Check out this video featuring Ulo Owl
Features: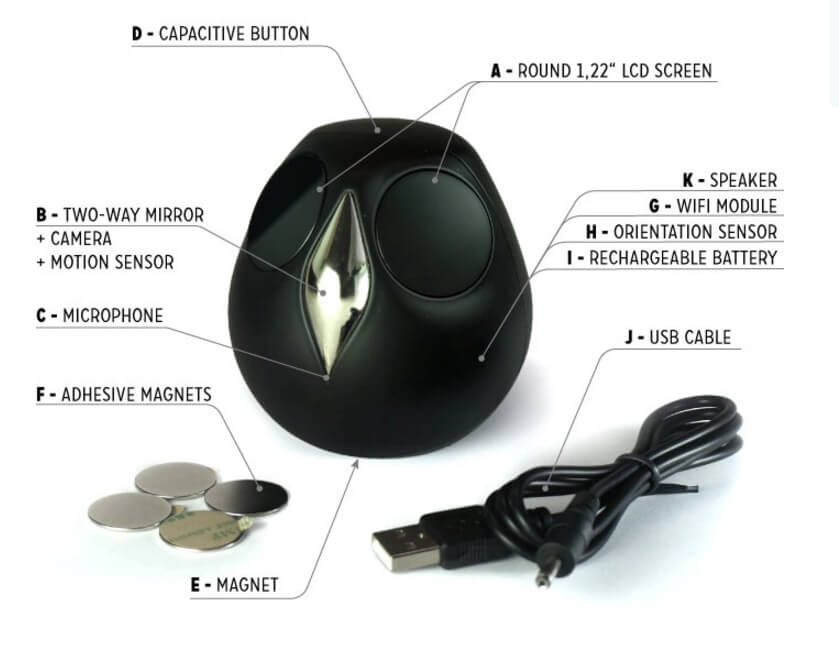 A-  It features round  1.22 inch LCD screen as its Eyes, which will help to take a crystal clear images and videos.
B – The nose  of the Owl is a two-way mirror and also acts as a motion sensor to indoor surveillance and track the movement with IR.
C- Microphone for recording voice around surroundings.
D- Its a button to activate it, Single Tap – On, Double Tap — Alert mode
E – The base consists of the magnet to make it enable to stick to walls using those adhesive magnets.
USB cable to charge it and the low battery will be intimated by the Dull eyes on the Owl.
The only way to connect it is through WIFI and by WIFI module this should ease the operation.
Don't worry when your Mobile leaves the WIFI network, everything will be recorded in the form of GIF and will be sent through the mail in Alert Mode.
It works also in night mode courtesy of IR.
ULO needs to be charged once in every 2 days in normal mode and can last a week for Alert Mode.
More details of this Owl here — >Â ULO- Owl details
This Adorable Owl Demo here.
Want to buy this, here is the link for pricing details –>. Order ULO
Hope you enjoyed this article.Like us and Share this article in Social networking sites to let your friends know about this adorable gadget and follow us and subscribe to our newsletter for more Quick updates.