How to download paid games for free on android phones
A few months ago, Google has announced that there are now more than two billion monthly active devices running on their flagship operating system, Android. These devices include smartphones, tablets, hybrid laptops, watches, gears, televisions, home appliances, and other electronics. Today, thousands of unique applications are submitted each day to the Android Market, now popularly known as the Google Play Store. These applications range from games, entertainment and social apps, communication tools, and more.In this You will Clear with How to download paid games for free on android phones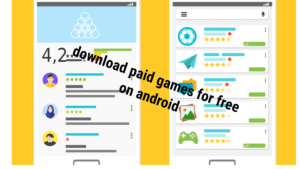 Google Play Store features a wide selection of great gaming apps that are totally free of charge. There are also games which can only be downloaded and played once you pay a certain amount. Most of us do not want to risk spending on unfamiliar apps which we may end up having a lot of bugs in the future. Fortunately, there a variety of ways that you can download paid Android games without spending even a single dime. Check out these 4 tips and start playing your favorite Android game for free.
Watch the Video
How to download paid Apps/Games for free on any Android Phone!

Earn credits through Google Opinion Rewards.
Google Opinion Rewards is a free Android tool that lets you earn Play credits by completing quick surveys every week (which can be more or less frequent than once a week). When a survey is available for you, a notification will be sent by the application to your device. The range of relevant questions includes picking a more attractive logo, rating the effectiveness of promotions, and other marketing-related queries based on your opinion as a digital consumer. Each survey can earn you as much as $1 worth of Play credits which you can use to purchase your favorite games in the Play Store.
Install the App of the Day.
App of the Day rewards their users with one free paid application every day together with a lot of bonus offers. App of the Day also offers free apps with annoying ads completely removed and paid features fully unlocked. Aside from casual, card, casino, and RPG games, you can also download video streaming apps, photo editors, music players, and productivity tools using the app. Explore hidden gems from App of the Day's collection of hundreds of thousands of Play Store applications.
Visit Play Store Sales.
Play Store Sales is a great website where you can download paid applications for free. You can also purchase some of your favorite paid games at huge discounts ranging up to $10 or more. Visit their site now and browse through Play Store Sales' collection of exciting games, apps, books, movies, music, TV shows, and a lot more. Bookmark their page and always check for updates for new exciting offers.
Check out Android Hackers.
AndroidHackers.net is a free website where you can browse a wide range of paid applications which are cracked and ready to use. Download your favorite games at AndroidHackers.net in Android application package format (.apk) and install them in a matter of minutes. Always remember to allow the option to install applications from other sources on your Android device. Visit their site for more tips and guides for installing every game that you wish to play.
I hope in this Article of How to download paid games for free on android phones  you might have
got the Full information about it.If any thing I missed please do Comment on it
More Such Article you May like as
How to delete Netflix History ? along with full detail information