Awesummly review 2019
IIf you are among the morning-haters who just hate early mornings but still want to remain updated with the morning-headlines, this is your opportunity.
Remain updated with the top headlines for the rest of your life with "AWESUMMLY"; this News app provides a summarized article of the news.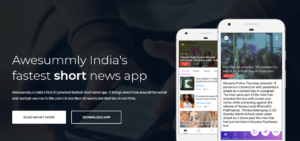 Why opt for a news app, instead of newspaper?
There are a lot of problems associated with reading the newspaper in the morning. One has to get up early and one has to take some extra time to read the paper. Newspapers have all types of news mixed together, i.e. we can't choose the desired news out of the bundle of the grouped news. It has a long description of the news which might be true or might not be true. Most of us are left aghast at the complexity and the lengthy newspaper.
Thus, to get rid of such problems and enjoy seamless news reading; join our community of online news reading. We are introducing you to a new app. This app is the best news app we have encountered to date and is absolutely free to download. It is "AWESUMMLY".
This app is the standout among the best online news providing app. In "AWESUMMLY', you will get everything type of news that you want to read; with a suitable, justifiable, and personalized classification. It is the best app, this is not a statement or an advertisement; rather it is a fact.
Events are random and are sure to occur randomly. In this world of eternal rushing, it has become very important for an individual to remain aware of what is going on out there in the world. Random incidents can happen at any moment and we have no way to calculate its effect on us; our only remedy is to stay informed about the various changes that are happening around us.
Features of  the awesummly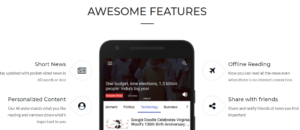 Here are some of the features of the awesummly; these awesome features can only be offered by this awesome app.
 Short news: –
This awesome and unique app is totally new and provides the best news with fewer words. Guaranteed to summarize every news articles into short news of only 60 words or less, the AWESUMMLY AI is one of a kind. This is what makes the app unique.
Personalized content:-
This is not just an app, it is developed in such a manner that the artificial intelligence, built within the app, understands and would recognize your likings. So you are ensured of getting the most relevant news on your feed that have been curated to your likings.
Audio news:-
Awesummly is so developed such that it allows its users to listen to news within a minute or two. The app features an audio news section that reads out the short news generated by the app. This is one of the best features that this app offers. You can have fun and could remain informed about every kind of news just by using an earphone and this app.
News instant update:-
This app has no delay in providing the news. All trending news and breaking news are automatically updated instantly. So you can get access to news updates within the least possible time. This app remains up to date; in this regard, none of the other apps can match up to it.
Offline reading:-
In instances where your data connection is lost, you might have turned on aeroplane mode, or you might be traveling and have lost your data connection; you will naturally think that you won't be able to access news. With all the other news app, you will be correct in assuming so. However, in this case, you are wrong! This is not the case with AWESUMMLY; the app has the offline reading features with which you can still read the short news in the absence of data.
Share with friends:-
AWESUMMLY allows you and your friends to share the news which you might feel are important. So whether you want to share an important piece of news or the latest cricket score, you can do so with AWESUMMLY. If you are a student and preparing for UPSC then this is the best app which can help you in your study.
News notifications:-
This is also one of the best features that the app offers. For people who wish to stay updated with all the latest happenings in their field of interest, you can set up AWESUMMLY to send you notifications when new news are generated for your field of interest. The app sends a notification for every new update, i.e. whenever it gets a new news or news feed, it would get updates and notify its users that there are new posts in the news of his favorite/selected genre.
Privacy:-
Unlike most other apps, AWESUMMLY is a trustworthy app. It is an app which keeps you, your identity and your private information that are present on your phone are protected. This is what makes this app uniquely trustworthy and different from others.
Live cricket:-
Are you a die-hard fan of cricket? Then, this is short news app is going to become your best friend. On top of the features mentioned above, AWESUMMLY can keep you updated with the current score, the live commentary by famed commentators as well as all from the comfort of your smartphone. So, whether you are traveling, lounging in your home or at a restaurant outside, you can stay updated on all sports score.You can even listen to it by using the audio news feature mentioned above.
Conclusion
I am a big face of the AWESUMMLY team. Their short news app is the best news app that I have ever used. It provides the fastest news while doing away with the hassle of newspapers. Restrained to a word limit of 60 words or less; keeping updated with the happenings around the world has never been easier. I am currently using the app and will definitely continue to use it since it is one of the best apps I have ever seen. So guys, Download AWESUMMLY and have an awesome time with AWESUMMLY.